£1.8 million to tackle scandal of 'beds in sheds'
Minister pledges to 'flush out' criminal landlords Criminal landlords trapping vulnerable people in 'suburban shanty-towns' will get the justice…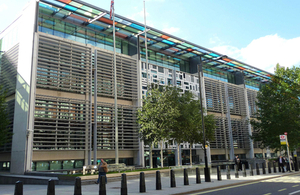 Minister pledges to 'flush out' criminal landlords
Criminal landlords trapping vulnerable people in 'suburban shanty-towns' will get the justice they deserve, Housing Minister Grant Shapps pledged today.
He allocated a £1.8 million fund to areas blighted by so-called 'beds in sheds', to tackle the problem head-on and end this growing practice by ruthless landlords.
Mr Shapps appealed to councils who may have turned a blind eye in the past to 'beds in sheds', to use this funding and the range of powers at their disposal, to tackle the issue.
'Beds in sheds' are often rented to migrants, including some with no right to be in the UK, at extortionate rates.
Their foreign 'tenants' often find it difficult to return home quickly after destroying their passports to avoid removal. With few other options, they will put up with cramped conditions, dodgy wiring and poor sanitation as an alternative to life on the streets.
Mr Shapps said that the £1.8 million fund would help the worst affected councils flush out those who exploit migrants at their most vulnerable. They are:
Brent
Ealing
Hillingdon
Hounslow
Newham
Peterborough
Redbridge
Slough, and
Southwark.
Housing Minister Grant Shapps said:
I'm determined to flush out criminal landlords who think they can make an easy buck from cramped, cockroach-ridden outhouses. The scandal of 'beds in sheds' must come to an end.

In the 21st century it simply isn't acceptable that people should be forced to live in such squalid and unsanitary conditions. That's why I've allocated £1.8 million to help councils in the worst affected areas crack down on this cruel exploitation.

But this is just the start. Our national taskforce, including the police, councils, the UK Border Agency and HM Revenue and Customs are pooling their resources to bring the so-called landlords of 'beds in sheds' to justice. I want anyone stuck in these suburban shanty towns to know that help is at hand and they will not be abandoned.
Notes to editors
1. The National Taskforce to tackle beds in sheds was announced on 30 April 2012 and can be found at: www.communities.gov.uk/news/newsroom/2137365.
2. Councils have been allocated the following funds:
Some councils have argued that they need to have a new legal power of entry into premises without notice. However, councils already have this ability provided they obtain a magistrates' warrant - which provides a proportionate check and balance on the use of such powers.
Twitter
Keep up to date with the Department by following us on Twitter (external link).
Media enquiries
Visit our newsroom contacts page for media enquiry contact details.
Published 11 May 2012