£1.3 million to hand power back to tenants
New programme will give social tenants voice to challenge local decisions The Housing Minister has unveiled a new fund of £1.3m to help give…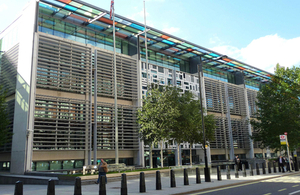 New programme will give social tenants voice to challenge local decisions
The Housing Minister has unveiled a new fund of £1.3m to help give more power to communities over their social homes. Grant Shapps hopes the scheme will help bring the passion of the Olympic volunteers and last year's broom armies to local communities by giving housing association and council tenants a voice to lead change in their area.
Mr Shapps said the Tenant Empowerment Programme would offer a "springboard for success" to communities across the country who want to see their local needs reflected in the services they receive.
This could be by helping tenants learn the skills they need to engage and negotiate confidently with their landlords; forming tenant panels to come together to demand the best value-for-money services; or even to take control of local services themselves if they feel that they could deliver more for less.
The Minister also highlighted the benefits to landlords of getting their tenants involved, from community involvement in scrutinising new repairs contracts or tenants working together with local authorities to tackle anti-social behaviour.
Giving tenants the confidence to invest in their community
The Minister invited charities and benevolent societies to submit their ideas for delivering a national programme that will:
encourage the creation of more tenant panels - groups of tenants who can challenge landlords, shape services and get involved in local decision making; and
help individual tenants engage with their landlords on a range of issues and services.
A new Community Cashback scheme will also be at the heart of the Tenant Empowerment Programme - allowing groups of tenants who choose to take on the management of services, such as maintenance and repairs, to reinvest any savings they make from running these services themselves into other community priorities.
Grant Shapps said:
In the past 12 months we've seen the power of local people in action, from the 'broom army' clean-ups after the riots to the Olympic volunteers helping this country put on the greatest show on earth. I know that tenants in communities across the country have that same passion.

This £1.3m programme will be a real springboard for local success, giving tenants real power, whether they choose to take local services over completely or merely challenge their landlords to do better.

We're bringing communities together and giving them the knowledge, skills and confidence to build their own Big Society in their back yard. And by helping them to ensure their area's unique needs are being met I hope they will inspire more tenants across the country to lead change in their communities.
Notes to editors
Applications are being sought from charities, benevolent societies and philanthropic institutions, as defined by the Charities Act 2006, for grant funding to deliver a tenant empowerment programme to tenants living in social housing. www.communities.gov.uk/publications/housing/tenantempowermentprospectus.

The tenant empowerment programme is designed to inspire tenants to lead change in their communities by having the skills and confidence to scrutinise, influence and control local services through tenant panels and other scrutiny mechanisms.

Grant funding of up to £1.32m will be made available from the £8m Tenant Empowerment Programme, announced in February 2011 to deliver two separate programmes. Applicants can choose to apply for one or both programmes.

This funding is intended to support activities over and above those that landlords should provide as part of their regular responsibilities.

The importance of developing local solutions to tackle tenants' problems, including an enhanced role for tenant panels, was identified in the Government's Review of Social Housing Regulation: www.communities.gov.uk/publications/housing/socialhousingregulation.
Published 28 August 2012