080/2012 - Hammond announces £1billion contract to power future submarines
The MoD has awarded Rolls Royce a £1.1 billion contract to produce new reactor cores for the Royal Navy's nuclear submarines and upgrade the plant where they will be built. The nuclear reactor cores will be used to power the seventh and final Astute Class submarine and the first of the Royal Navy's next generation of nuclear deterrent submarines, known as the Successor Class.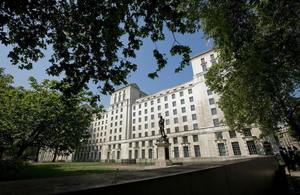 The investment – which secures 300 jobs at Rolls Royce - will also fund an eleven-year refurbishment of Rolls Royce's plant at Raynesway in Derby, extending its operating lifetime by more than 40 years.
The contract will see construction of new buildings that will replace existing facilities that have reached the end of their useful life. Replacing the existing infrastructure with state of the art nuclear reactor core production facilities will cost around £500m. A further £600m will be spent on producing new reactor cores for the Astute and Successor Class submarines.
Announcing the contract, Defence Secretary, Philip Hammond, said:
Having balanced the MoD's books we can now invest in vital strategic capabilities to meet the present and future defence needs of the UK.
This contract will secure hundreds of highly-skilled jobs for UK industry, while retaining our sovereign nuclear capability.
The Raynesway site has played a key part in the production and maintenance of our nuclear deterrent for more than 50 years. This regeneration will make sure it continues to do so for many years to come.
The MoD's Director of Submarines, Rear Admiral Simon Lister, said:
I am very pleased that this contract has been signed as it will ensure that our future submarines are powered with the very best reactor cores.
Raynesway is a centre of excellence for nuclear reactor core production and the site works to stringent health and safety practices.
The site has an excellent safety record and this investment will make sure that the very highest standards of nuclear and conventional safety continue to be maintained.
Notes to editors
Rolls-Royce in Derby is contracted by the MoD to support the UK's submarine programme through the provision of a plant design, support and manufacturing capability. They are not involved in nuclear weapons related work.

The Astute Class are the largest, most advanced and most powerful attack submarines ever operated by the Royal Navy. They are nuclear-powered but not nuclear-armed. The Strategic Defence and Security Review, published in October 2010, confirmed that the MoD plans to purchase seven Astute-class submarines, which are in various stages of build and development, with the First of Class, HMS Astute, commissioned into the Royal Navy in 2010.

As with almost all large-scale complex programmes it is necessary to procure some Long Lead Items in advance to ensure their availability for when the submarine build is commenced; this will also ensure that the boats can be delivered to schedule.

For more information, please contact Lex Oliver in the MoD Press Office, on 0207 218 3256.

Photographs of HMS Astute are available at www.dni.mod.uk.
Username: GuestUser Password: WhiteBoard
Published 18 June 2012