079/2012 - Celebrating Fathers' Day in Afghanistan
Deployed dads across Afghanistan's Helmand province have received a welcome morale boost as Fathers' Day cards have been delivered to the operational theatre, thanks to the British Forces Post Office.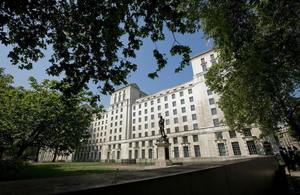 Thousands of personnel across the Royal Navy, Army and Royal Air Force, serving in Afghanistan, have been opening cards from loving sons and daughters on what is traditionally one of the busiest postal deliveries of the year.
Although work continues seven days a week for deployed personnel, the occasion has allowed many of them to take a break from their duties. The primary role of British forces is to train and mentor their Afghan counterparts. Over the next two years, the Afghans will increasingly take over security responsibilities in the country – whilst at the same time keeping up pressure on the Taleban insurgency.
Thirty year old Corporal Wayne Tudor, of Tidworth-based 26 Engineer Regiment, is currently deployed to Camp Bastion, the main UK base in Helmand. Cpl Tudor was delighted to receive home made cards from his daughter Emily, 11, and son Harry, 8.
He said:
It is homemade cards like these that keep morale so high. I would like to say a big 'thanks' to my two wonderful kids and wife for my cards and I miss you all very much.
Twenty-six year old Lance Corporal Thomas Cook, of the Kings Royal Hussars, is usually based in Tidworth, but is currently deployed in the provincial capital of Helmand, Lashkar Gah. Southampton-born LCpl Cook received his Fathers' Day card from his wife Lucy, 25, and two children, Lilly, 7, and Liam, 3.
He said:
Cheers for the cards! It's not long now till I'm back as my rest and recuperation is next week. We can celebrate then and I'm looking forward to a delayed Fathers' Day treat, like being brought breakfast in bed!
Twenty-seven year old Lance Corporal Andrew Barnett, also of the Kings Royal Hussars, has two young boys at home, Rian, 2, and Jack, 15 months.
LCpl Barnett, from Cheltenham, sent the following message back to his children:
"Keep being good boys for mummy. Love you all loads and see you soon. Shame I can't be celebrating Father's day with you but don't worry as we will have a big celebration when I'm back."
Servicemen and women can spend many months away from their family and friends and receiving letters from loved ones is often an immense morale booster.
Family and friends in the UK can make use of the British Forces Post Office and send packets up to 2kgs to their loved ones deployed in Afghanistan free of charge. This is part of the Enduring Free Mail system that enables family and friends to keep in touch.
Captain Scott Talman, Officer Commanding Herrick 16 Postal and Courier Troop, said:
Emails and phone-calls are great but there's nothing like the feel and the touch of a letter from home. The post brings morale and makes the troops feel loved. It's always rewarding to watch the guys faces light up when the mail comes off the back of the helicopter – especially on Fathers' Day.
Note to editors
Pictures of the Service personnel quoted in the above release and quoted below are available to download from www.defencenewsimagery.mod.uk
Additional quotes
Sergeant Dean Lee Calutt, 32, 19 Regiment Royal Artillery (The Highland Gunners), Tidworth, Wiltshire, based in Nad-e Ali. Children, are Courtney, 13 and Caitlin, 6, and they are at home in Larkhill with wife, Michelle. He said:
Thank you for your cards. I am missing you both loads I will be home soon, Daddy.
Lance Corporal John Rowlands, 27, of 7 Platoon, B (Suffolk) Company, 1 Royal Anglian (The Vikings), currently based in Southern Nad-e Ali. Has a daughter, Layla, 6 months, at home in West End, Pirbright, Surrey with wife, Georgina. He said:
I love you loads, I will see you and Mummy soon, I am gutted I couldn't be there for my first Father's Day.
Lance Bombardier Jamie Reynolds, 22, of 19 Regiment Royal Artillery (The Highland Gunners), Tidworth, Wiltshire, currently based in Nad-e Ali but from Dunfermline, Scotland. His girlfriend Becky Jeffrey and son Alfie, two, both live in Salisbury. He said:
I can't wait to come home and give you a hug. Daddy is safe and thinking of you every day. Sorry I cannot be there on Father's Day, I will be home in August wee man.
Staff Sergeant Tony Underwood, 38, of The King's Royal Hussars, Headquarters Squadron normally based in Tidworth, Wiltshire, is currently deployed to Lashkar Gah. He has three boys, Charlie, 15, Thomas, 12 and Owen, 7 at home with his wife Rebecca. He said:
Charlie study hard for your GCSEs. Make sure Grandad gets a card in my absence. I am gutted that I won't be getting breakfast in bed. I miss you all and love you and will be thinking of you. Thanks for the Ukulele, I am desperately trying to learn 'When I'm cleaning windows' by George Formby for when I get back for R and R.
Sergeant Carl Donald, 30, of The King's Royal Hussars, Headquarters Squadron normally based in Tidworth, Wiltshire, but originally from Workington, Cumbria. He has a son, Reece, 5, at home with his wife Kerry, 30. He said:
Miss you all and see you soon. Not long now but thanks for my card and keep up the football and swimming son.
Sergeant Nathan Davison, 38, from 26 Engineer Regiment received his Father's Day cards from his three children Alyssa, Keira and James. Sgt Davison, from Tidworth, is currently serving in Camp Bastion as the Squadron Headquarters Signals Senior Non Commissioned Officer. He said:
Thank you very much for my cards, miss you all very much." In addition he wishes his own father, Mervyn Davison a happy father's day too.
ENDS
Published 17 June 2012