Volunteer
Find out how to volunteer in your local community and give your time to help others.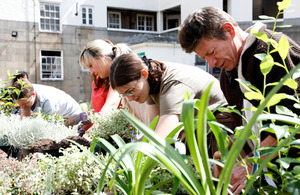 What is it?
Anyone can volunteer. It can be very rewarding and is a great way to:
meet new people
gain new or use existing skills
get experience
make a big difference to your community
There are lots of easy ways to give your time to help others – from having a cup of tea with an elderly neighbour, to helping out in your local area or making a regular commitment to volunteer with a charity or community group.
How can I get involved?
There are several organisations that can help you find a way to volunteer that suits you.
Do-it.org is a database of UK volunteering opportunities. You can search more than a million volunteering opportunities by interest, activity or location and then apply online.
You can also contact National Council for Voluntary Organisations (NCVO), Volunteer Scotland, Volunteering Wales, Jersey Charities, Guernsey Charities or Volunteering Matters to find opportunities in your area.
Join-in runs volunteering projects as a legacy of the London 2012 Olympic and Paralympic Games. Contact them to find out about how to get involved with local sporting and community projects.
Young people
Young people can also volunteer either at school or in their own time. If you're aged 16 or 17 you can take part in the National Citizen Service (NCS).