Case study
WW1 South African VC recipient Andrew Beauchamp-Proctor
The story of South African First World War Victoria Cross recipient Andrew Weatherby Beauchamp-Proctor.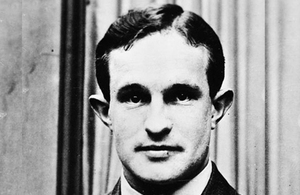 14 men from South Africa received the Victoria Cross, Britain's highest award for gallantry, during the First World War. As part of the Centenary Commemorations the people of the United Kingdom marked their gratitude to those courageous men by presenting a bronze memorial plaque to their home country engraved with their names. The plaque is now displayed at the Castle of Good Hope, Capetown. This archive tells their stories.
Name: Andrew Frederick Weatherby Beauchamp-Proctor
DOB: 4 September 1894
Place of Birth: Mossel Bay, South Africa
Date of Action: 8 August to 8 October 1918
Place of Action: Western Front
Rank: Captain
Regiment: Royal Flying Corps
Andrew Beauchamp-Proctor was South Africa's leading First World War flying ace, with 54 aerial victories to his name. He was born on 4 September 1894 in Mossel Bay, South Africa, and was studying engineering at the University of Cape Town when war broke out. He joined the Duke of Edinburgh's Own Rifles and took part in the German South West Africa campaign, before being demobilised in August 1915.
Captain Beauchamp-Proctor joined the Royal Flying Corps in March 1917, and was sent to France that September with 84 Squadron. In 1918, he was awarded the Military Cross, the Distinguished Service Order, the Distinguished Flying Cross, and then the Victoria Cross for his heroic efforts between 8 August and 8 October 1918. His citation explains in detail:
Between 8 August 1918, and 8 October 1918, this officer proved himself victor in 26 decisive combats, destroying 12 enemy kite balloons, 10 enemy aircraft, and driving down 4 other enemy aircraft completely out of control. Between 1 October 1918, and 5 October 1918, he destroyed 2 enemy scouts, burnt 3 enemy kite balloons, and drove down one enemy scout completely out of control. On 1 October 1918, in a general engagement with about 28 machines, he crashed one Fokker biplane near Fontaine and a second near Ramicourt; on 2 October he burnt a hostile balloon near Selvjgny; on 3 October he drove down, completely out of control, an enemy scout near Mont d'Origny, and burnt a hostile balloon; on 5 October, the third hostile balloon near Bohain. On 8 October 1918, while flying home at a low altitude, after destroying an enemy 2-seater near Maretz, he was painfully wounded in the arm by machine-gun fire, but, continuing, he landed safely at his-aerodrome, and after making his report was admitted to hospital. In all he has proved himself conqueror over 54 foes, destroying 22 enemy machines, 16 enemy kite balloons, and driving down 16 enemy aircraft completely out of control. Captain Beauchamp-Proctor's work in attacking enemy troops on the ground and in reconnaissance during the withdrawal following on the Battle of St. Quentin from 21 March 1918, and during the victorious advance of our Armies commencing on 8 August, has been almost unsurpassed in its brilliancy, and as such has made an impression on those serving in his squadron and those around him that will not be easily forgotten.
Beauchamp-Proctor died during a training accident at RAF Hendon, England, on 21 June 1921. He was buried in Mafeking, South Africa, following a state funeral.
Published 20 June 2016