Case study
WW1 New Zealand VC recipient Samuel Frickleton
The story of New Zealand First World War Victoria Cross recipient Samuel Frickleton.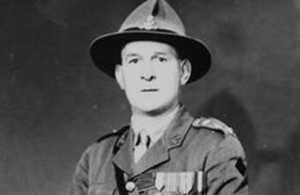 16 men from New Zealand received the Victoria Cross, Britain's highest award for gallantry, during the First World War. As part of the Centenary Commemorations the people of the United Kingdom marked their gratitude to those courageous men by presenting a bronze memorial plaque to their home country engraved with their names. The plaque is now displayed in the grounds of the New Zealand Parliament, Wellington. This archive tells their stories.
Name: Samuel Frickleton
DOB: 1 April 1891
Place of Birth: Slamannan, Scotland
Date of Action: 7 June 1917
Place of Action: Messines, Belgium
Rank: Lance Corporal
Regiment: 3rd Battalion, New Zealand Rifle Brigade
Samuel Frickleton was born on 1 April 1891 in Slamannan, Scotland, into a large coal-mining family. He emigrated to New Zealand in 1913, following his elder brother who was already working in a mine on the west coast of the South Island.
Following the outbreak of the First World War, Samuel joined the New Zealand Military Forces in February 1915. He volunteered to serve overseas with the New Zealand Expeditionary Force, as did his four brothers. However, Frickleton became ill with a lung infection, diagnosed as tuberculosis and he was discharged as medically unfit. Once recuperated, he re-enlisted in 1916 and was posted to France as a rifleman in the 3rd Battalion of the New Zealand Rifle Brigade. He was promoted to Corporal in March 1917.
Corporal Frickleton was awarded his Victoria Cross for most conspicuous bravery and determination on 7 June 1917 during the Battle of Messines. His battalion was attacking the edge of Messines village when it was pinned down by heavy enemy machine gun fire. His citation in the London Gazette explains:
Although slightly wounded, Lance Corporal Frickleton dashed forward at the head of his section, rushed through a barrage and personally destroyed with bombs an enemy machine gun and crew, which were causing heavy casualties. He then attacked the second gun, killing the whole of the crew of twelve. By the destruction of these two guns he undoubtedly saved his own and other units from very severe casualties and his magnificent courage and gallantry ensured the capture of the objective. During the consolidation of the position he suffered a second severe wound. He set, throughout, a great example of heroism.
Frickleton was wounded in the arm, hip, as well as being badly gassed. He was evacuated to England for medical treatment After the First World War, Frickleton remained in the military before retiring for health reasons with the rank of Captain in 1927. He then worked in several fields, including business and farming. Samuel Frickleton died in 1971 in Wellington, leaving a wife and son.
There is a plaque in his honour at Messines Ridge British Cemetery, Belgium. In 2007, a plaque commemorating his bravery was unveiled at the Mesen Church in Belgium
Published 20 June 2016