Case study
WW1 New Zealand VC recipient Samuel Forsyth
The story of New Zealand First World War Victoria Cross recipient Samuel Forsyth.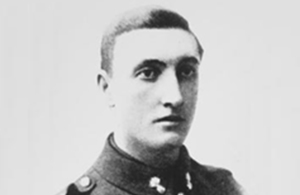 16 men from New Zealand received the Victoria Cross, Britain's highest award for gallantry, during the First World War. As part of the Centenary Commemorations the people of the United Kingdom marked their gratitude to those courageous men by presenting a bronze memorial plaque to their home country engraved with their names. The plaque is now displayed in the grounds of the New Zealand Parliament, Wellington. This archive tells their stories.
DOB: 3 April 1891
Place of Birth: Wellington, New Zealand
Date of Action: 24 August 1918
Place of Action: Grevillers, France
Rank: Sergeant
Regiment: New Zealand Engineers, attached to 2nd Battalion, Auckland Infantry Regiment.
Samuel Forsyth was born on 3 April 1891 in Wellington, New Zealand. He was working as a gold amalgamator before the outbreak of the First World War. He enlisted in the New Zealand Expeditionary Force and left for the Middle East in October 1914 where he served in Gallipoli.
Sergeant Forsyth was serving with the New Zealand Engineers, attached to the 2nd Battalion, Auckland Infantry Regiment, when he was posthumously awarded his Victoria Cross for his actions on 24 August 1918. His battalion had been tasked with the capture of the village of Grevillers. His citation explains the events:
For most conspicuous bravery and devotion to duty in attack. On nearing the objective, his company came under heavy machine-gun fire. Through Sjt. Forsyth's dashing leadership and total disregard of danger, three machine-gun positions were rushed and the crews taken prisoner before they could inflict many casualties on our troops. During subsequent advance his company came under heavy fire from several machine guns, two of which he located by a daring reconnaissance. In his endeavour to gain support from a Tank, he was wounded, but after having the wound bandaged, he again got in touch with the Tank, which in the face of very heavy fire from machine guns and anti-Tank guns, he endeavoured to lead with magnificent coolness to a favourable position. The Tank, however, was put out of action. Sjt. Forsyth then organised the Tank crew and several of his men into a section, and led them to a position where the machine guns could be outflanked. Always under heavy fire, he directed them into positions which brought about a retirement of the enemy machine guns and enabled the advance to continue. This gallant N.C.O. was at that moment killed by a sniper. From the commencement of the attack until the time of his death Sjt. Forsyth's courage and coolness, combined with great power of initiative proved an invaluable incentive to all who were with him and he undoubtedly saved many casualties among his comrades.
Sergeant Forsyth was buried at Adanac Military Cemetery in France. His Victoria Cross was presented to his wife Mary, by King George V.
Published 20 June 2016