Case study
WW1 New Zealand VC recipient Leslie Wilton Andrew
The story of New Zealand First World War Victoria Cross recipient Leslie Wilton Andrew.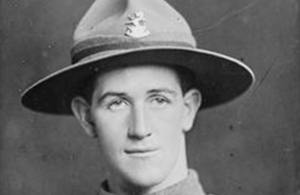 16 men from New Zealand received the Victoria Cross, Britain's highest award for gallantry, during the First World War. As part of the Centenary Commemorations the people of the United Kingdom marked their gratitude to those courageous men by presenting a bronze memorial plaque to their home country engraved with their names. The plaque is now displayed in the grounds of the New Zealand Parliament, Wellington. This archive tells their stories.
Name: Leslie Wilton Andrew
DOB: 23 March 1897
Place of Birth: Ashhurst, Manawatu, New Zealand
Date of Action: 31 July 1917
Place of Action: La Basseville, Belgium
Rank: Corporal
Regiment: Wellington Infantry Battalion, New Zealand Expeditionary Force
Leslie Andrew was born in Ashhurst, New Zealand, on 23 March 1897 and grew up in Wanganui where his father was a headteacher. He later became a clerk with the Railways Department, before volunteering for the New Zealand Expeditionary Force in October 1915, putting his age as 20 to ensure overseas service. He sailed for France in May 1916, joining B Company of the Wellington Infantry Battalion and was wounded within weeks during fighting on the Somme.
Following the success of the attack on Messines Ridge in June 1917, the Allies tried to consolidate their gains. On 26 July in the early stages of the Battle of Passchendaele, New Zealand forces captured the village of La Basseville, only for the Germans to retake it the following day, due to the heavy casualties they were able to inflict from a machine gun post. Corporal Leslie was awarded his Victoria Cross for most conspicuous bravery on 31 July 1917 when leading a party which attacked a number of German machine gun positions in La Basseville. As his citation in the London Gazette explains:
His objective was a machine-gun post which had been located in an isolated building. On leading his men forward he encountered unexpectedly a machine-gun post which was holding up the advance of another company; he immediately attacked, capturing the machine gun and killing several of the crew. He then continued the attack on the machine gun post which had been his original objective. He displayed great skill and determination in his disposition, finally capturing the post, killing several of the enemy and putting the remainder to flight. Cpl. Andrew's conduct throughout was unexampled for cool daring, initiative, and fine leadership, and his magnificent example was a great stimulant to his comrades.
In 1918, Leslie Andrew was commissioned as an officer and remained in the army after the First World War. At the outbreak of the Second World War, Andrew commanded the 22nd Battalion taking part in the North African Campaign and was awarded the Distinguished Service Order (DSO).
Andrew was later promoted to Brigadier and retired in 1952. He died in 1969 in Palmerston North, and his Victoria Cross is held at the New Zealand Army Museum.
Published 20 June 2016