Case study
WW1 New Zealand VC recipient Lawrence Carthage Weathers
The story of New Zealand First World War Victoria Cross recipient Lawrence Carthage Weathers.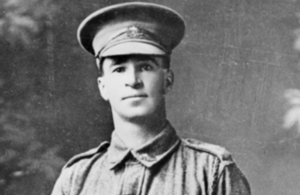 16 men from New Zealand received the Victoria Cross, Britain's highest award for gallantry, during the First World War. As part of the Centenary Commemorations the people of the United Kingdom marked their gratitude to those courageous men by presenting a bronze memorial plaque to their home country engraved with their names. The plaque is now displayed in the grounds of the New Zealand Parliament, Wellington. This archive tells their stories.
Name: Lawrence Carthage Weathers
DOB: 14 May 1890
Place of Birth: Te Koparu, New Zealand
Date of Action: 2 September 1918
Place of Action: Péronne, France
Rank: Temporary Corporal
Regiment: 43rd Battalion, Australian Imperial Force
Lawrence Carthage Weathers was born on 14 May 1890, in Te Koparu, New Zealand, but at the age of seven he moved to South Australia with his Australian parents. Before the war, he was an undertaker in Adelaide and was married with two children. In 1916, Weathers enlisted in the Australian Imperial Force and was sent with the 43rd Battalion to the Western Front where he was both wounded and gassed.
Corporal Weathers was awarded the Victoria Cross for his actions on 2 September 1918, the day after the Battle of Mont Saint-Quentin, when his battalion was clearing enemy positions north of Péronne. His citation reads:
For most conspicuous bravery and devotion to duty on the 2nd September, 1918, north of Peronne, when with an advanced bombing party. The attack having been held up by a strongly held enemy trench, Corporal Weathers went forward alone under heavy fire and attacked the enemy with bombs. Then, returning to our lines for a further supply of bombs, he again went forward with three comrades, and attacked under very heavy fire. Regardless of personal danger, he mounted the enemy parapet and bombed the trench, and, with the support of his comrades, captured 180 prisoners and three machine guns. His valour and determination resulted in the successful capture of the final objective, and saved the lives of many of his comrades.
Less than a month later, Weathers was mortally wounded and died on 29 September 1918. He is buried at Unicorn Commonwealth War Graves Commission Cemetery at Vendhuile.
Published 20 June 2016