Case study
WW1 New Zealand VC recipient Henry James Nicholas
The story of New Zealand First World War Victoria cross recipient Henry James Nicholas.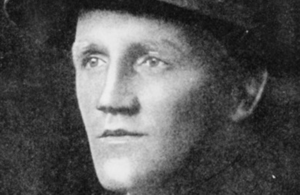 16 men from New Zealand received the Victoria Cross, Britain's highest award for gallantry, during the First World War. As part of the Centenary Commemorations the people of the United Kingdom marked their gratitude to those courageous men by presenting a bronze memorial plaque to their home country engraved with their names. The plaque is now displayed in the grounds of the New Zealand Parliament, Wellington. This archive tells their stories.
Name: Henry James Nicholas
DOB: 11 June 1891
Place of Birth: Lincoln, New Zealand
Date of Action: 3 December 1917
Place of Action: Polderhoek, Belgium
Rank: Private
Regiment: 1st Battalion, the Canterbury Regiment, New Zealand Expeditionary Force
Henry James Nicholas was born on 11 June 1891 in Lincoln, New Zealand. He worked as a carpenter before enlisting in 1916. Three months later he joined the New Zealand Expeditionary Force in France as a private with the 1st Battalion of the Canterbury Regiment.
Private Nicholas was awarded the Victoria Cross for his bravery during an attack on Polderhoek Chateau in Belgium on 3 December 1917. His citation reads:
Private Nicholas, who was one of a Lewis gun section, had orders to form a defensive flank to the right of the advance, which was checked by heavy machine-gun and rifle fire from an enemy strong-point. Whereupon, followed by the remainder of his section at an interval of about 25 yards, Private Nicholas rushed forward alone, shot the officer in command of the strong-point, and overcame the remainder of the garrison of sixteen with bombs and bayonets, capturing four wounded prisoners and a machine-gun. He captured this strong-point practically single-handed, and thereby saved many casualties. Subsequently, when the advance reached its limit, Private Nicholas collected ammunition under heavy machine-gun and rifle fire. His exceptional valour and coolness throughout the operations afforded an inspiring example to all.
Private Nicholas was presented with his VC by King George V at Buckingham Palace. He was killed in action near Le Quesnoy, France just three weeks before the end of the war. He was buried at Vertigneul Churchyard, Romeries, and was posthumously awarded the Military Medal. A memorial bronze statue of Nicholas was unveiled in the Park of Remembrance, Christchurch, in 2007.
Published 20 June 2016