Case study
WW1 Canadian VC recipient William Avery Bishop
The story of Canadian First World War Victoria Cross recipient William Avery Bishop.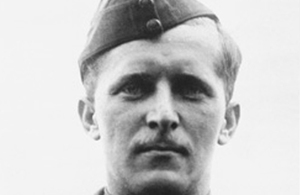 70 men from Canada received the Victoria Cross, Britain's highest award for gallantry, during the First World War. As part of the Centenary Commemorations the people of the United Kingdom marked their gratitude to those courageous men by presenting a bronze memorial plaque to their home country engraved with their names. The plaque is now displayed at the British High Commission Ottawa. This archive tells their stories.
Name: William Avery Bishop
DOB: 8 February 1894
Place of Birth: Owen Sand, Ontario, Canada
Date of Action: 2 June 1917
Place of Action: Cambrai, France
Rank: Captain
Regiment: Royal Flying Corps
William Avery Bishop was born on 8 February 1894 in Owen Sand, Ontario, Canada. At the outbreak of the First World War, he left the Royal Military College of Canada and joined the 9th Mississauga Horse, Canadian Expeditionary Force, before transferring to the Royal Flying Corps.
Captain Bishop had already been awarded the Distinguished Service Order, and the Military Cross, when he was awarded the Victoria Cross. It was for his bravery in single-handedly attacking an enemy airfield on 2 June 1917 at Cambrai, France, destroying 7 aircraft. His citation reads:
Captain Bishop, who had been sent out to work independently, flew first of all to an enemy aerodrome; finding no machine about, he flew on to another aerodrome about three miles south-east, which was at least twelve miles the other side of the line.  Seven machines, some with their engines running, were on the ground.  He attacked these from about fifty feet, and a mechanic, who was starting one of the engines, was seen to fall.  One of the machines got off the ground, but at a height of sixty feet Captain Bishop fired fifteen rounds into it at very close range, and it crashed to the ground. A second machine got off the ground, into which he fired thirty rounds at 150 yards range, and it fell into a tree. Two more machines then rose from the aerodrome.  One of these he engaged at the height of 1,000 feet, emptying the rest of his drum of ammunition.  This machine crashed 300 yards from the aerodrome, after which Captain Bishop emptied a whole drum into the fourth hostile machine, and then flew back to his station. Four hostile scouts were about 1,000 feet above him for about a mile of his return journey, but they would not attack. His machine was very badly shot about by machine gun fire from the ground.
By the end of the war Captain Avery had claimed 72 official air victories. After the war he became involved in business and lived both in the UK and Canada. At the outbreak of the Second World War he was made Air Marshal of the Royal Canadian Air Force, and was responsible for recruitment. He has many tributes in Canada including the Owen Sound Billy Bishop Regional Airport.
Published 20 June 2016