Case study
WW1 Canadian VC recipient George Harry Mullin
The story of Canadian First World War Victoria Cross recipient George Harry Mullin.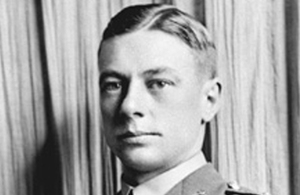 70 men from Canada received the Victoria Cross, Britain's highest award for gallantry, during the First World War. As part of the Centenary Commemorations the people of the United Kingdom marked their gratitude to those courageous men by presenting a bronze memorial plaque to their home country engraved with their names. The plaque is now displayed at the British High Commission Ottawa. This archive tells their stories.
Name: George Harry Mullin
DOB: 15 August 1892
Place of Birth: Portland, Oregon, USA
Date of Action: 30 October 1917
Place of Action: Passchendaele, Belgium
Rank: Sergeant
Regiment: Princess Patricia's Canadian Light Infantry, Canadian Expeditionary Force
George Harry Mullin was born in Portland in the USA on 15 August 1892, but his family moved to Saskatchewan, Canada, when he was just two. In the First World War, he served in the scout and sniper section of Princess Patricia's Canadian Light Infantry, Canadian Expeditionary Force. He was awarded the Military Medal for his conduct at Vimy Ridge in April 1917.
Sergeant Mullin was awarded his Victoria Cross for most conspicuous bravery on 30 October 1917 near Passchendaele. The Canadians were trying to destroy a German pillbox that was blocking their advance. A company made a frontal attack on the pillbox to draw its fire, whilst Mullin approached from the flank and single-handedly captured it. As his citation explains:
He rushed a sniper's post in front, destroyed the Garrison with bombs, and, crawling on top of the Pill-box, he shot the two machine-gunners with his revolver. Sjt. Mullin then rushed to another entrance and compelled the Garrison of ten to surrender. His gallantry and fearlessness were witnessed by many, and, although rapid fire was directed upon him, and his clothes riddled by bullets, he never faltered in his purpose and he not only helped to save the situation, but also indirectly saved many lives.
Mullin was promoted to lieutenant later in the war, and he served as a captain in the Veterans Guard in the Second World War. He died in Saskatchewan in 1963, and his Victoria Cross is displayed at the Museum of the Regiments in Alberta.
Published 20 June 2016