Case study
WW1 Canadian VC recipient Colin Fraser Barron
The story of Canadian First World War Victoria Cross recipient Colin Fraser Barron.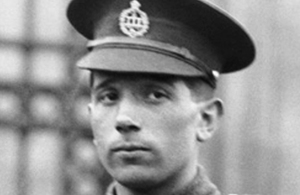 70 men from Canada received the Victoria Cross, Britain's highest award for gallantry, during the First World War. As part of the Centenary Commemorations the people of the United Kingdom marked their gratitude to those courageous men by presenting a bronze memorial plaque to their home country engraved with their names. The plaque is now displayed at the British High Commission Ottawa. This archive tells their stories.
Name: Colin Fraser Barron
DOB: 20 September 1893
Place of Birth: Baldavie, Scotland
Date of Action: 6 November 1917
Place of Action: near Passchendaele
Rank: Corporal
Regiment: 3rd Battalion, Canadian Expeditionary Force
Colin Fraser Barron was born in Banffshire, Scotland in 1893. He emigrated to Canada in 1910 and enlisted in the Canadian Expeditionary Force in 1914.
Corporal Barron was 24 years old and serving with the 3rd Battalion when he was awarded the Victoria Cross for bravery on 6 November 1917 near Passchendaele. His citation in the London Gazette explains the events:
For conspicuous bravery when in attack his unit was held up by three machine-guns. Corpl. Barron opened on them from a flank at point-blank range, rushed the enemy guns single-handed, killed four of the crew, and captured the remainder. He then, with remarkable initiative and skill, turned one of the captured guns on the retiring enemy, causing them severe casualties. The remarkable dash and determination displayed by this N.C.O. in rushing the guns produced far-reaching results, and enabled the advance to be continued.
Barron later achieved the rank of Sergeant-Major. During the Second World War, he served with the Royal Regiment of Canada in Iceland and England. He died in Toronto in 1958.
Published 20 June 2016