Case study
UKEF helps JDR double its growth in the European energy sector
UK Export Finance support has helped JDR Cable Systems manage its cash flow by supporting performance bonds issued by its bank.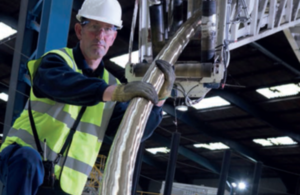 When JDR successfully expanded its cable business into the European energy sector, it was asked to supply performance bonds which could have constrained its ability to grow due to the risk of a bond being called. UK Export Finance (UKEF) worked with the company's bank to "de-risk" the business. It issued guarantees, for both a bonding facility and for export working capital supplied by the firm's bank, to support current and future projects.
Power exports
JDR Cable Systems is a mid-sized business supplying sub-sea power and control cables to the oil and gas, offshore wind, wave and tidal energy sectors. The company's headquarters and small cable manufacturing facility are in Cambridgeshire and its large cable manufacturing plant is at the deep water docks of Hartlepool, allowing major orders to be shipped out directly to destinations worldwide.
In fact, the majority of the firm's output – more than 80% – is exported to overseas markets including Asia Pacific, the US, West Africa and Europe. The firm established its credentials in the renewables market domestically, supplying cables to both London Array in the Thames Estuary and the Greater Gabbard wind farm off the Suffolk coast, which currently remain the two largest wind farms in the world.
Double support
This work opened doors to new export opportunities. In 2012 JDR won a contract to supply cables to the Meerwind Süd and Meerwind Ost windfarms off the North Sea coast of Germany. When the company was asked by the buyer to provide a performance bond, JDR made an approach to UKEF. We also directly supported the company's working capital need by issuing guarantees for both a bonding facility and export working capital supplied by the firm's bank, to support current and future projects. The support has underpinned a series of contract wins including a 2014 contract for more than 100 kilometres of inter-array power cabling for Vattenfall's Sandbank project, also located in German waters.
A third German inter-array wind farm cable project is now in the pipeline, as the company continues to establish itself as a market leader.
Future expansion
Martin Boden, Chief Financial Officer at JDR, said:
Our bank has been very supportive, but there is no doubt that UKEF bonding assistance has boosted our European expansion.

We are a relatively small company compared to many of our multinational competitors, and we are growing fast. Without UKEF support, we would not be able to compete with the bigger players who can just put the full value of bonds onto their balance sheets, and I am sure the same would apply to other companies of our size.

Our growth would otherwise be limited to the bank facility, so the UKEF guarantees have effectively doubled the speed of our development. For us, UKEF support is critical.
More information
Published 21 July 2015