Case study
Want to follow your passion? Natasha Simpson – Unity Counselling Service
From:

Part of:

Published:

25 November 2013
How advice and support from the New Enterprise Allowance helped Natasha Simpson set up her business – Unity Counselling Service.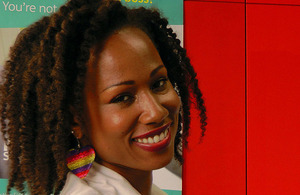 Natasha was signing on at Forest Hill Jobcentre Plus when her adviser told her about the New Enterprise Allowance (NEA). She had wanted to set up a counselling business for some time. The support and advice from the NEA helped make her dreams a reality.
Natasha graduated in 2010 with a degree in psychotherapy. She started her business – Unity Counselling Service – in 2011. She operates from consulting rooms in Forest Hill, Beckenham and Westminster. Clients can also be seen in their own home or have a consultations using Skype or a webcam.
Natasha said: "I already had the idea of setting up a counselling business, even before I graduated in 2010 – I'd seen a survey that highlighted the need for more independent counselling services in primary care. But I needed help to make my dreams a reality and that's where the NEA came in."
NEA provider Ixion took over, giving Natasha support in the early stages of setting up her business. She was given one-to-one advice from a business mentor, £1,000 government loan to finance the rent premises and a laptop.
Natasha said: "The 4 years of working voluntarily for various charities gave me the experience I needed to set up on my own. My main goal is to help those facing crisis in their lives, by using counselling, psychotherapy or cognitive behavioural therapy."
Natasha's future plans include professional development with the aim of becoming a relationship counsellor and she will also be taking a 1 year course in clinical supervision.
Natasha explains how New Enterprise Allowance helped her
Natasha explains how New Enterprise Allowance helped her
Natasha's 5 top tips
Natasha has 5 top tips to succeed in business.
1. Clear vision
Have a clear vision – and research and continuously ask these questions:
where does your product fit?
why it is needed?
who wants it and when?
how it will be used?
what your product will look like in physical terms?
2. Business plan
Use your business plan to keep you on track and refer back to it as needed to maintain your focus and remember why you are doing this when things get tough.
3. Marketing
Market continuously and in any way that you can. Keep in mind that 'you need to be seen to be used'.
4: Risks and trust
Take reasonable risks and develop trust in your own business instincts. If something sounds too good to be true, it usually is.
5: Thick skin
Develop a thick skin and do not take rejections or any knock backs to heart – it's just business. See everything as a way to improve yourself, your product and as a learning curve.
Video transcript
Natasha Simpson
I graduated in psychotherapy which has always been a passion of mine and I love what I do.
I wanted to start my own business and at Jobcentre Plus they helped me turn my passion into a business.
My adviser at the Jobcentre was really helpful and gave me all the information I needed but I had a clear vision of where I wanted to be and I did a lot of research about who my competitors were and the marketplace.
Once I realised I wanted to start my own business I knew I needed access to some expert help.
Through the Jobcentre I got access to a mentor whilst I was developing my business plan. A good plan is vital to keep you on track. I also got help with funding 'til I got on my feet.
My mentor was a godsend. I ran all my problems by him and I got the value of his experience.
Iain Lockhart, Jobcentre Plus adviser
We deliver business support for the New Enterprise Allowance programme We provide professional business advisers, mentors workshops and the Mentor Hive, our online mentoring tool.
Natasha Simpson
I learned a lot along the way but the most important thing is you've got to be seen to be used. Make people aware of your business through social media.
I love my job and being my own boss. The business is going from strength to strength.
Don't get me wrong it's hard and don't let the knock backs get you down, with NEA and your mentor you're not alone!
Document information
Published: 25 November 2013