Case study
Using a web-chat facility to promote HIV prevention support
This project uses secure online video conferencing to enable HIV prevention support for marginalised communities in rural Hampshire.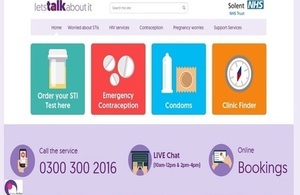 What is involved
The rural nature of Hampshire means that for many, access to services can be challenging. The associated costs and time needed to engage with special support for HIV prevention and HIV treatment and care can be prohibitively difficult so while successful 1:1 support programmes and treatment and care support is available, many do not take up these offers.
The target groups for this service are rurally isolated men who have sex with men (MSM), young MSM, Black and Minority Ethnic (BME) and Black African (BAC) communities and socially and rurally isolated people living with HIV who will access support via mobile telephones, PCs and tablets.
Positive Action will work in partnership with Solent NHS Trust Sexual Health Service, counselling services and peer support programmes to provide secure interventions including:
condom access
the negotiation of safer sex activity (including chemsex)
clinical interventions to enable increased adherence to medication
welfare and preventative social care
The partnership with local NHS Sexual Health Services will enable online access to HIV specialists, Central nervous system specialists (CNS), pharmacists, consultants and HIV prevention specialists. This will be delivered through a single, secure portal that includes:
text and telephone support
access to condoms by post
self-sampling for sexually transmitted infections (STIs) and HIV
an HIV portal for results and medication management
remote access support via internet chat rooms and social media
There will be access to translation services for membership of BME and BAC communities that may find access to health care and HIV prevention complex due to language barriers.
Anticipated benefits
The service will benefit the local area by providing, in an innovative way, increased access to HIV prevention, treatment and care, welfare advice and peer support. The remote delivery of preventative social care to people living with HIV will enable individuals to access other specialist support from a range of professionals including counsellors. This will support better adherence to treatment and increased decision making in sexual relationships.
It will also enable access to support workers who can support around issues of debt, housing, employment, all of which impact upon a person's wellbeing.
Next steps
The project will be monitored and evaluated using the following metrics:
access and use of the web-chat service
qualitative feedback from both the professionals and the service users on the effectiveness of online engagement, and in resulting behaviour change
quantitative data on the number, type and length of online sessions, and to which specialist support services
access to STI and HIV testing in sexual health services or through self-sampling methods
cost effectiveness of sessions based on cost via web-chat vs cost via face to face interventions
Donna Bone, Chief Executive, Positive Action said:
"In direct response to the increasing number of people living with HIV in employment and education, Positive Action and Solent NHS Trust will be creating new ways of accessing information, advice and support.
"By developing web-chat and video-chat appointments which can be accessed by PCs, tablets and smart phones, we anticipate that access to some medical and support appointments will be much easier to achieve.
"People living with HIV in Hampshire will be able to receive information about medication, test results, safer sex and relationships support without needing to attend clinical appointments."
Further information
Published 1 December 2016