Case study
UKTI's export support helps Bulldog double its turnover
Skincare brand Bulldog grows its overseas business in Europe and other markets with help from UKTI's OMIS service.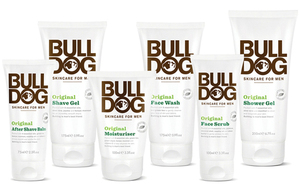 Expert advice and support from UK Trade & Investment (UKTI) helped launch London based men's skincare business Bulldog into Europe.
Bulldog's overseas business has since grown to around £2 million, around 30% of revenue. Its products are now sold in more than 14,000 stores in 13 countries across:
Europe
Australia
New Zealand
US
South Korea
Expanding exports
Bulldog decided to look into opportunities in Europe, specifically Scandinavia to grow its business.
Simon Duffy of Bulldog met with a UKTI International Trade Adviser (ITA) to discuss his plans. He went on to commission an Overseas Market Introduction Service (OMIS) to find out more about Sweden.
Following the OMIS a UKTI market adviser at the British Embassy in Stockholm introduced the company to a distributor and various industry contacts. Bulldog invited them, with local press and bloggers, to a launch event at the Embassy which was a great success.
Today, the company's share of the Swedish market for men's skincare is larger than L'Oreal's. It repeated this approach in Norway and Austria, again with great results.
UKTI services
This success in Europe gave Bulldog both the credibility and the confidence to venture further afield.
Simon Duffy of Bulldog saw first-hand the benefits of working with UKTI,
The success that UKTI helped us to achieve in Europe gave us international exposure that has allowed us to grow in a controlled way. It's an easy exercise to connect many of our positive outcomes back to a key UKTI input. I'm a big UKTI fan and would encourage any business considering exporting to get in touch with them.
The company went on to make use of a host of other UKTI services including:
completing Passport to Export, the UKTI programme that helps businesses to prepare for international markets
using UKTI funding towards the costs of attending Expo West, a major industry event in the US, where it now has a number of distribution partners and sells into over 1500 outlets
receiving £800 towards the costs of an independent trip to New Zealand, where the company has since appointed a distributor who will also cover Australia
Launchpad into Asia
Bulldog is now focusing on Asia.
South Korea is the world's leading men's skincare market and the hub of fashion and style in the region. It has huge market potential for British businesses. Bulldog has recently begun to sell to one of South Korea's main retailers.
Bulldog
Bulldog was set up in 2006 by entrepreneur Simon Duffy and his friend Rhodri Ferrier, after they spotted a gap in the men's skincare market. The brand and its logo, the iconic British bulldog, broke into the highly female orientated market in the UK in 2007.
Fast facts
| | |
| --- | --- |
| Company | Bulldog |
| Sector | Retail |
| Target Markets | Sweden; Norway; Austria; the US; Australia; South Korea |
| UKTI Services | Overseas Market Introduction Service; Events; Passport to Export; Tradeshow Access Programme; Market Visit Support |
| Website | www.meetthebulldog.com |
Published 9 July 2014