Case study
UKTI supports powerPerfector's growth in Malaysia and beyond
powerPerfector signs exclusive deal with Sime Darby to enter ASEAN markets.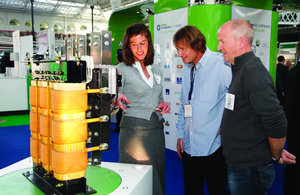 powerPerfector is the UK's leading provider of voltage optimisation technology. The company is also an award winning, small medium sized company that is successfully building its overseas business.
As stated by Jamie Buchanan,Chief Executive Officer at powerPerfector:
In 2012, a third of powerPerfector's revenues came from overseas, worth some £7 million, we have recently signed a distribution partnership with the Malaysian multinational corporation Sime Darby and we expect our business in Malaysia, Singapore and Thailand to grow significantly as a result.
We anticipate up to 50% of our revenues will be generated by export markets by 2014.
Award winning technology
powerPerfector's award winning VPO (voltage power optimisation) technology optimises a building's electricity supply, reducing electricity consumption and the associated carbon footprint by up to 15%. The VPO technology also improves power quality, protects against power spikes and will suppress' harmonics' that can damage sensitive electrical equipment. Payback on a powerPerfector installation typically takes two to four years and provides a return on investment of up to 50% in the first year, subject to the price of electricity, the incoming voltage level and the availability of government incentives.
Since the company began in 2004, powerPerfector estimates that its technology has reduced carbon dioxide emissions by over 990,000 tonnes in the UK, while cutting energy bills in the public and private sectors by around £150 million. In 2010, against stiff competition from Dyson's air blade and BOC, the company was awarded 'Low Carbon Product of the Year' in Management Today's UK Green Business Awards.
Record growth
powerPerfector's growth has been strong, in the 36 months to December 2009 the company achieved 140% growth and was ranked 10th in the Sunday Times Fast Track 100 of fastest growing private companies in the UK for 2010. The transformational moment though came when the company completed the strategic acquisition of the global intellectual property, manufacturing and distribution rights of the VPO technology from its Japanese supplier. It has subsequently transferred the manufacturing operation to the UK and now supports some 450 jobs in the UK, either directly or indirectly.
The company has built an impressive clientele list of private and public sector organisations which includes: Tesco, EDF Energy, Anglian Water, Hilton Hotels, the Oxford Colleges, the World Wildlife Fund (WWF) and 28 separate UK government departments. The company has also extended its global reach beyond its first and most successful export market: Australia. With the support of UK Trade & Investment it has established a comprehensive partnership and distribution network in key markets across the globe including Malaysia, Singapore, Thailand, Philippines, Denmark, Sweden, Norway, Canada and the United States.
Malaysian market
We have been very encouraged by the buoyancy of the market in Malaysia and the willingness to engage with UK business. The energy efficiency agenda is greatly supported by coordinated and well considered incentives and policies.
In mid-2012, powerPerfector signed an exclusive distribution agreement with Sime Darby. Since then the partners have identified a number of trial sites in Malaysia including a major grocery retailer, several hotels, golf courses and office buildings. The company anticipates revenues of some £5 million from Malaysia over the next two years and sees Southeast Asia as a very promising region. powerPerfector has therefore decided to establish manufacturing in Malaysia to serve the Southeast Asia region.
powerPerfector is at the start of what promises to be an exciting journey in Malaysia, the drivers for growth are in place, the company is working with an excellent partner of the highest repute and the revenue opportunities are substantial. What is more, the coordinated government approach makes the country attractive for investment.
UKTI helped at every step
Buchanan explained that UKTI helped at every step of the journey. The company has attended a number of UKTI trade missions that have led to meetings with and introductions to senior individuals, potential distributors and clients in each of the company's target markets as well as key influencers and policy makers.
UKTI representatives have provided follow up support and guidance which has helped the understanding of the local markets and the identification of material market opportunities.
powerPerfector's top tips
Be prepared. Define your strategy and understand the target markets.

Utilise the support of UKTI at an early stage, as this is a cost effective way of accessing international markets. Attend the UKTI trade missions which provide a well-structured, effective method of meeting suitable partners, clients,influencers and policy makers.

Establish on the ground support quickly as this will ensure proactive follow up.

Keep UKTI fully informed of progress to enable them to help drive your business in the relevant markets – maintaining consistent and ongoing contact and communication is essential.
Further information
UK Trade & Investment through a range of unique services,including participation at selected trade fairs, overseas missions and providing bespoke market intelligence, can help crack foreign markets and quickly get to grips with regulations and business practices overseas.
UK Trade & Investment's Overseas Market Introduction Service (OMIS) is a flexible business tool, letting you use the services of our trade teams, located in our embassies, high commissions and consulates across the world, to benefit your business from market sector advice and analysis of market entry strategies to support during overseas visits and identification of possible business partners.
Published 21 May 2013