Case study
UKTI support boosts exports for Alvis Bros
Alvis Bros Ltd has used UK Trade & Investment (UKTI) services to promote its cheeses in overseas markets.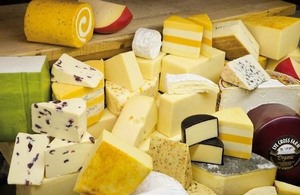 As a result, the company has seen an increase in export sales from 4 per cent to 25 per cent in the past four years.
Since 1952, the Alvis family has been making Farmhouse Cheeses at Lye Cross Farm just a few miles from the village of Cheddar. Today, Alvis Bros Ltd employs a staff of 120 and makes an average of 75 tons of cheese per week.
The company started to export around 10 years ago, but really began to focus on overseas markets in the last four years. A UKTI International Trade Adviser (ITA) has been on hand to guide the company along the way, making sure it is aware of available support.
Funding through UKTI's Tradeshow Access Programme (TAP) has helped Alvis Bros to attend international food and drinks trade fairs, including Anuga in Cologne in 2009, 2011 and 2013 and Biofach in Nuremberg in 2012, 2013 and 2014. This has been a major factor in the company securing new customers in over 30 countries, in particular in Europe, Asia and North America.
Having a TAP grant reduces the risk of us investing money in exhibiting without seeing any return,
says Ben Hutchins, Commercial Manager of Alvis Bros.
The UKTI stand is very impactful, capitalising on the Britishness of our brand and drawing a lot of interest. UKTI also made useful introductions and arranged appointments for us with potential buyers from around the world.
Exhibiting at Anuga has been the main reason for our recent success with exports, which have increased from just 4 per cent of our sales in 2009, to almost 25 per cent today.
Ongoing support
UKTI continues to provide ongoing support to Alvis Bros as it works to further grow its export sales, specifically:
including the company in a UKTI Trade Mission to Central America, helping to build a clear picture of the opportunities in this region
paying the course fees and accommodation for Alvis Bros to attend a week-long course - 'Competing and winning in the US market' - at the prestigious Kellogg School of Management in Chicago
advising on grant funding available through the European Regional Development Fund (ERDF), which the company has used extensively
We work very closely with our ITA and her support has been invaluable,
says Ben.
The ERDF gave us funding of £10,000 when we invested £30,000 pursuing export opportunities. We have used this to complement a review of our website through UKTI's Export Communications Review service, developing brochures and business cards suited to the international market, commissioning an Overseas Market Introduction Service (OMIS) for Cyprus and paying for market visits to Cyprus and the Middle East.
UKTI has on-the-ground experience and networks of contacts that give us a useful introduction into new markets. They have proven to be a valuable resource for us.
Fast facts
Company: Alvis Bros Ltd/ Lye Cross Farm
Sector: Food
Target Market: US, Europe, Asia, Middle East
UKTI Services: Tradeshow Access Programme, Market Visit Support, Events & Trade Mission, Export Communications Review
Website: www.lyecrossfarm.co.uk
Published 19 March 2014