Case study
UKEF helps Algeos grow its footprint in the Middle East
Working capital support proves crucial to this podiatry and orthotic provider's exporting success.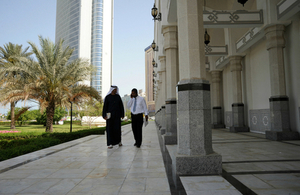 Algeos began exporting when it identified an opportunity as countries in the Middle East experienced a spike in diabetes. The company produces specialist footwear to prevent lower limb loss caused by diabetes. In 2010, Algeos opened an office in Dubai to supply its life-changing products to the region's diabetes sufferers.
Soon after, it won a major 2 year-long contract to provide these products to the procurement body for hospitals in six member countries of the Gulf Cooperation Council. Algeos has continued to win this tender in each year since.
The 2015 order was nearly double the value of previous years at $4.2 million, and required extended payment terms. Coupled with long lead-in times for ordering supplies and making this sizeable order, the contract meant that Algeos needed significantly more working capital than it was able to access through its existing arrangements.
Working with Dan Green, International Trade Manager at Natwest, the company's bank, UK Export Finance (UKEF) was able to provide a solution. By guaranteeing part of a £650,000 working capital loan, UKEF was able to help it access the finance it needed to fulfil this major contract, paving the way for continued success in the region.
Without the short term financial support UKEF and Natwest were able to provide, we would not have had the resources to fulfil this significant order. Working with UKEF has given us the opportunity to realise a substantial increase in our revenue and to grow our presence in an important market.
Jackie Fisher, Chief Executive Officer, A. Algeo Ltd (Algeos)
UKEF is here to help make exports happen. By providing a solution to finance this export order, we were able to support Algeos' ambitions to grow its sales abroad.
Kevin Ledwith, Export Finance Adviser for the North West, UKEF
About Algeos
Established in 1881, Algeos was bought by Alan Sheridan in 1990. Under the Sheridan family's ownership, Algeos has grown from a turnover of £65,000 to a £10 million business today. This growth has been driven by diversification into supplies for the orthopaedic and podiatric industries. By finding alternative uses for its products, they were able to expand their market range.
More information
New business enquiries
Our helpline is open from 9am to 5pm.
Published 25 November 2016