Case study
UKEF shares financing risk to make catamaran export happen
Successful export win by Blyth Workcats made possible by the government's export finance support.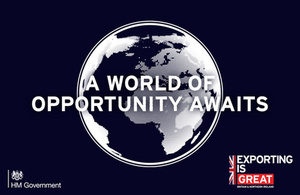 The project – to supply a purpose built catamaran for a German University research programme – went ahead thanks to the support of UK Export Finance (UKEF), the UK's export credit agency. It stepped in to share some of the financing risk with Blyth's bank, enabling the export to go ahead.
Blyth Workcats, which produces catamarans for the UK and in a growing number of overseas markets, won the contract in December 2015. The additional finance was required due to the German buyer's requirement for an advance payment bond, which can be a common challenge for exporters. Blyth contacted David Scott, our export finance manager based in Essex, who proposed a solution. UKEF would partner with Blyth's bank and issue a guarantee for 50% of the value of the bond, thereby reducing the risk.
Stuart Davidsen, Production and Design Manager at Blyth, said:
UKEF support was paramount for this project. Our bank couldn't cover 100% of the risk, but UKEF was able to take half, which made it happen. We couldn't have gone ahead without it.
David Scott, UKEF export finance manager for Norfolk, Suffolk and Essex, said:
UKEF exists to help businesses on their way to becoming larger export businesses, and our support for Blyth Workcats was an example of how UKEF can help companies overcome one of the challenges of selling overseas.
Blyth, who have been based in Canvey Island since 2003 and who employ 22 people, are now planning for more orders from both the UK and overseas.
More information
Published 22 September 2016