Case study
Transformation of former nuclear site into college campus and business park
The Nuclear Decommissioning Authority provided land, buildings and equipment to create a college, University Technical College and business park in Gloucestershire.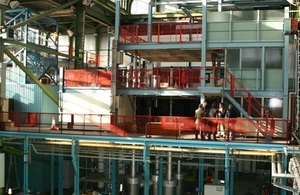 | Nearest NDA site | Duration | Total investment | NDA contribution | Partners | Delivered by |
| --- | --- | --- | --- | --- | --- |
| Berkeley | 2015 to 2017 onwards | Approximately £30 million so far | Provision of lease and £207,000 for equipment | GFirst LEP, South Gloucestershire and Stroud College (SGS), EFA, University of Gloucestershire | South Gloucestershire and Stroud College Commercial Services Ltd |
Outcomes:
Creation of college, University Technical College and business park.
1,000-plus school and college learners
30-plus teaching and lecturing posts
Training and apprenticeship support for local businesses
10 occupiers already on site with room for 50-plus units
Pioneering and cost-effective re-use of former nuclear facilities – rather than demolition.
Ongoing projects include Cyber Security Centre, Advanced welding facility, SMART grid with battery storage, Advanced Renewables Research Centre and the Berkeley Research Group, created to compile the site's history
Back in 2006, the collection of old offices, stores, labs and workshops next to Berkeley's redundant power station were looking tired and run-down. Some were empty, awaiting demolition, while others were used as an administrative centre for southern Magnox sites.
Today, a visionary programme of refurbishment, construction and collaboration among local partnerships has transformed the former nuclear research centre into a pioneering campus focused on education, technical skills training and business: the Gloucestershire Science and Technology Park.
This is the UK's first nuclear clean-up programme that has successfully brought a contaminated site back into full community use, cleverly adapting existing buildings and now boasting state-of-the-art training facilities. It is also the first time that nuclear facilities have effectively been 'recycled' for an educational enterprise.
Andy Slaney, Chief Operations Officer for South Gloucestershire and Stroud College, which has led the re-development, said:
It must be the best end result for the nuclear decommissioning process anywhere in the entire world.
The story began in the 1960s, when Berkeley Centre, as it was known, was one of the UK's three key research centres for the nuclear power industry. About 750 staff worked at the labs including 200 scientists and engineers, supported by technicians, designers and admin staff. The power station next door employed a further 1,750 at its peak.
Over the following 20-plus years, enthusiasm for nuclear power started to wane, while research activities also tailed off. The Centre emptied and decommissioning began of the many facilities that had been used for radiological experimentation, followed by demolitions and clean-up of the land.
The NDA took on ownership when it was established in 2005, and began to oversee lifting of all the nuclear-related regulations that prevented the site from being re-used. Initial options were mainly focused on wholesale demolition, with an estimated cost of around £8 million, and marketing the cleared land for business use.
Many discussions and assessments later, in 2015, the land and its remaining buildings were instead leased to SGS on a long-term basis.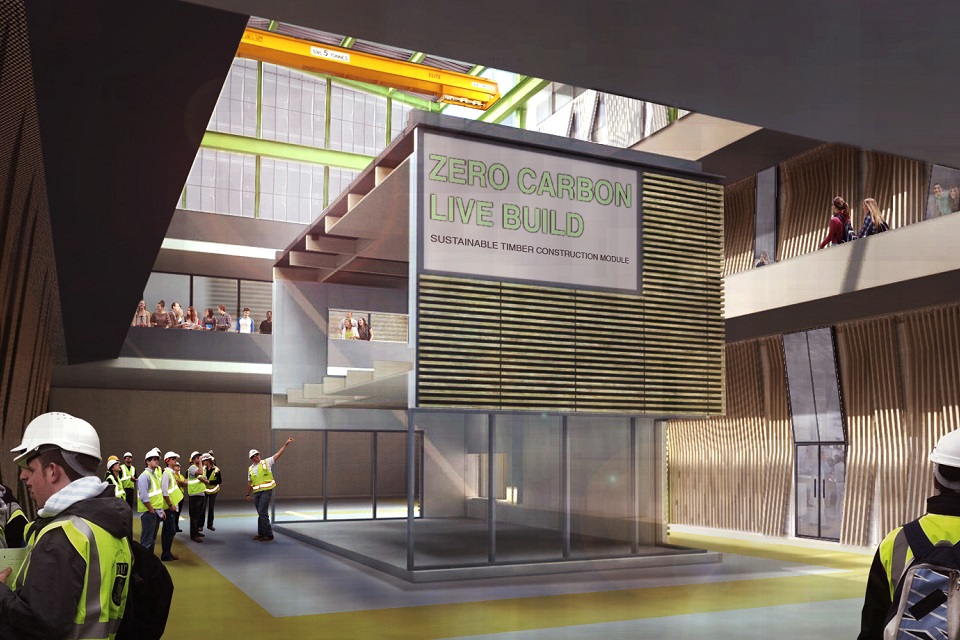 Now, the campus is buzzing with excitement and the future is bright. The transformation has been warmly welcomed in the region, boosting the local economy and offering some of the very best training opportunities for young people.
Community stakeholders associated with the neighbouring decommissioning site have long championed the project. Penny Wride, Chair of the Berkeley Site Stakeholder Group (SSG), said:
The Berkeley SSG has long seen the potential for redeveloping the Berkeley labs into a further education facility for the local area. The engineering centre is a fantastic example of putting the nuclear industry mantra of 'recycle and re-use' into practice. The campus will provide exciting opportunities for young people in Berkeley and beyond for many years to come and I am delighted to see the SSG's vision come to fruition.
On offer are post-16 learning and on-the-job technical training, as well as undergraduate cyber-research and units for high-tech industries.
A range of business units are already occupied by occupiers including a bio-fuels research company and a modular housing development organisation.
Fittingly, for a site with a history so closely associated with electricity generation, £4 million of funding has been allocated for renewables research centre that will act as a catalyst for businesses involved in low-carbon and renewable technologies. Within the next few years, the science park could, as part of its energy mix, feature solar, air source heat pumps, biomass, tidal, Liquified Petroleum Gas (LPG) wind and batteries.
For a rural area that lost one major nuclear employer when the research labs closed in the 1980s and is in the process of losing another as the neighbouring reactor site is gradually dismantled, the turn-around has been a huge and welcome boost locally.
Three educational establishments are now located on the campus:
South Gloucestershire and Stroud College
The college offers engineering-based training and studies for 16-18-year olds. Its facilities include workshops, offices and project spaces, but its eye-catching centrepiece is an old engineering hall that has been completely renovated and its heavy-duty industrial equipment given a new lease of life. Once used by the nuclear industry, the newly named John Huggett Engineering Hall (named after the SGS College Chair of Governors who was instrumental in delivering the vision) building it is a modern training environment for apprentices and other learners that is almost certainly unrivalled in the UK.
Andy Slaney said:
We would never have been able to install equipment like this if we'd had to purchase from new, but it was already there, lying unused.

It is an incredible, exciting place for technical training and gives a real flavour of an industrial workplace.
A state-of-the-art welding facility is also being developed to further enhance skills training, using existing equipment and taking advantage of old assets – another resource that would have otherwise been beyond college means.
University Technical College
Alongside South Gloucestershire and Stroud College is the University Technical College, which is part of the government's flagship programme for developing specialist vocational skills from the age of 14 onwards. Linked with the University of Gloucestershire and a range of local businesses, its courses specialising in cyber security, digital technologies and engineering are influenced by employer requirements as well as academic disciplines.
University of Gloucestershire Cyber Security Centre
Meanwhile, the University of Gloucestershire Cyber Security Centre has worked alongside the College to provide secure facilities for businesses and organisations working in cyber security. The 7 zones include a conference suite, cyber training suite, demonstration zone with the latest technologies and an 'accelerator' zone for start-up and scale-up businesses working in cyber security.
Published 30 October 2017