Case study
Three things Razan from Syria did to set up her own UK business
From:

Part of:

Published:

16 February 2015
If you're on benefits, the government's New Enterprise Allowance helps you get your business idea off the ground.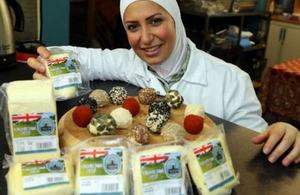 After arriving in the UK from Syria with her husband and 3 young children, all Razan Al Sous wanted was to make a better life for her family.
Razan wanted to start a business and after struggling to get bank loans she got help from the government's New Enterprise Allowance (NEA). With funding and a mentor to guide her, Razan now runs a small but successful business making halloumi cheese – Yorkshire Dama.
As the business grows Razan plans to employ local people to work for her.
Here are 3 things Razan did to achieve her goals and find success:
1. Know your market
Conduct market research to find a gap in the market. Razan found that people loved Yorkshire milk because of its high quality and strong flavour, so she knew it would make excellent halloumi.
2. Put a twist on it
Put a unique twist on your idea. Razan used traditional Syrian recipes to make her cheese. This means that if other people were making halloumi in Yorkshire, she would still have a unique product.
3. Take advantage of the support offered by the New Enterprise Allowance
Razan's mentor was invaluable and helped set up her business from the start, from filling out the correct paperwork to finding and leasing premises.
More about New Enterprise Allowance
If you want to start your own business, New Enterprise Allowance offers a mentoring service and financial support.
Eligibility
You must be aged 18 or over, have a business idea and get one of the following benefits:
Jobseeker's Allowance (or your partner does)
Employment and Support Allowance (or your partner does)
Income Support, if you're a lone parent, or you're sick or disabled
You may also be eligible if you get Universal Credit, including if you're already self-employed.
Your Jobcentre Plus work coach can check if you qualify and refer you to the scheme.
You don't qualify if you're part of the Work Programme, but you can still get other help setting up a business.
There's more help available from the government
The NEA is just one of many government schemes that offer support. Here are a few more schemes you may be interested in:
Other useful services:
Document information
Published: 16 February 2015