Case study
We supported AFL's bid for an architectural design contract in Qatar
UK Export Finance is using its Bond Support Scheme to help Manchester's AFL Architects to bid for a prestigious design contract in Qatar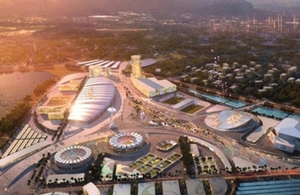 When AFL Architects bid to be the lead designer on a new ambulance centre in Qatar, the company had to provide a tender bond as proof of intent. It used our Bond Support Scheme to reduce the impact on its working capital.
Through providing support like this, we are increasing the UK's exports and making the UK more competitive.
Specialists
AFL Architects was founded in 1997 and specialises in designing buildings for leisure, sports and healthcare facilities. The company designed the Peter Mokaba Stadium for the 2010 FIFA World Cup and is set to design FC Kuban's new stadium in Russia. The 140-strong company hopes to double its turnover to £10 million in 2014. About 25% of its business is international.
The bid to be lead designer on the new ambulance centre in Doha had to include a £150,000 tender bond. This would have restricted the company's working capital, making it difficult for it to bid on any other jobs. Steve Cowles, one of our Export Finance Advisers explains:
The company had already invested money in opening its Doha office, so it needed results. AFL could have covered this bond, but it would have stopped them growing at the rate they wanted.
Smooth process
We quickly agreed in principle to take on 50% of the £150,000 liability through our Bond Support Scheme. Garry Rowlands, Director at AFL Architects said:
UK Export Finance got us over the finishing line. They gave us a lot of personal attention and the bond application process was really smooth, with UK Export Finance working closely with our bank. Once we had the agreement in principle from UK Export Finance, our bank was confident enough to reduce our cash cover requirement from £75,000 to £40,000.
We will certainly use the UK Export Finance for help with performance bonds in the future. We want to cement our reputation in the Middle East and Central Asia and UK Export Finance has already assisted with this.
I'd advise companies to get UK Export Finance involved. They have the knowledge about how to work in new regions.
Since September 2013 AFL has submitted three more applications for design projects in the United Arab Emirates.
Bond Support Scheme: more information
Under the Bond Support Scheme we provide a partial guarantee to a bank where it issues a bond in respect of a UK export contract. This protects the bank against the risk of the exporter being unable to repay them if a call is made on the bond by the beneficiary. The bank can then issue the bond even if it doesn't have sufficient risk appetite. With advance payment and progress payment bonds, this may result in more working capital being available for the exporter.
Criteria for eligibility are:
UK-based exporter
Buyer based overseas
Export goods and services need a minimum of 20% UK content
We can typically guarantee up to 80% of the value of the bond or export contract working capital facility
Read the full guide to the Bond Support Scheme, including how to apply.
Contact an Export Finance Adviser in your region or alternatively call:
New business enquiries
Our helpline is open from 9am to 5pm.
Published 13 March 2014