A business-focused CIC offering practical skills and work experience to young people with learning disabilities.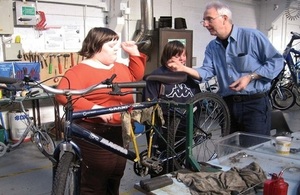 Securing a first job can be challenging for any young person leaving education. But for those with learning disabilities gaining experience, skills and secure employment is especially tough.
Spokes CIC, a social enterprise in Kidderminster, aims to fill in the gap for these young people by giving them training in bicycle repair and maintenance. Founded in 2006, it grew out of a previous project, which faced closure due to financial difficulties. Chris Jordan, whose own son has learning difficulties, didn't want to see the project close, so he stepped in with two partners to turn it into a viable business.
"The majority of our young people come for one or two days a week," he says. "They've left college and are looking for work, but finding it hard. We help them to develop work skills. They get to maintain a level of discipline, turning up on time in the morning, and taking part in a workplace. It builds their self-esteem."
Spokes aims to generate at least 50 per cent of its income through trading, which comes from bike sales and repair and maintenance charges. It collects bikes from schools to repair and fixes local police bikes. Other income comes through grants and from social services. Spokes also works with Kidderminster College, helping its learning disability group build bicycles for 'Bikes for Africa', a charity exporting bikes to the Gambia that enable children living in rural villages to get to school. It also has developed a new course – The Route to Work Diploma that is focused on developing employability skills.
Jordan knew from the start that Spokes had to work towards becoming self-reliant, and that the CIC model was most suitable for it. "I don't think it's right to run a social enterprise entirely on grants," he says. "From the start we pursued a focused business model. However we're not just a bike shop – our priority here is to help young people get into work."
The CIC model, he says, was a quick and easy way of getting Spokes started and clarifying its purpose. "It's ideal, because it gave us the flexibility to move quickly. Setting up a charity, you need to focus in the initial stages on getting the administration right and locating suitable and willing Trustees As a CIC, we could get on with things quicker. But it also allowed us to prove that we are working under a social model with no personal gain to us."
Recently, Spokes became the trading arm of the Emily Jordan Foundation, a charity set up in memory of Chris Jordan's own daughter, Emily, who died in 2008. Emily was a great help in getting Spokes off the ground, whilst at University studying Law. She was killed in New Zealand whilst river boarding.
The Foundation raises money for people with learning disabilities – its aim is very simple: To help individuals with moderate learning or physical disabilities to lead fulfilled lives. As a CIC, its assets cannot be used for personal profit, but the structure fits perfectly as a charity's linked trading organisation.
Meanwhile, Jordan is already seeing huge benefit to the young people coming to Spokes and hopes to expand the organisation. "One young man wouldn't say a word to anybody when he joined us," he says. "Two years on, he stood on stage with me and spoke at an event. That development of self-belief means a lot."
| | |
| --- | --- |
| Name | Spokes |
| Location | Kidderminster, Worcestershire |
| Company structure | CIC limited by guarantee |
| Founded | 2006 |
| Community interest statement | Spokes enables individuals with social, physical or learning difficulties to gain skills and confidence to help them progress into work. |
Find out more about Spokes
Published 12 November 2013