Case study
Small British communications business increases staff by 10%
Small British communications agency, Kindred, has increased its staff by 10% per year after winning a government contract.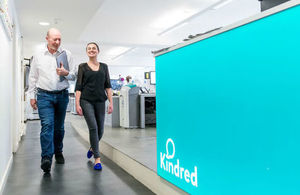 Background
Kindred has just over 70 members of staff and over the last few years around 20% of their work has come from HM Government.
Kindred have been contracted to work on a large variety of campaigns for government including the Home Office, Department for Education and Food Standards Agency, to provide PR, social and digital services.
Their recent campaign 'First4Adoption' with Department for Education on increasing adoption rates in the UK won the IPA award for effectiveness. Their work has proven to be extremely valuable in helping government achieve its policy objectives.
Kindred found the procurement process fair
Anastasia Scott, managing partner, Kindred, said: "The procurement process was surprisingly easy and incredibly fair. It is understandable that at first SMEs may be daunted by working with such a large organisation. However, the process itself and the Crown Commercial Service (CCS) framework is very straight forward.
"There may be some unfamiliarities, such as acronyms, but it's easy to ask questions. In fact, sometimes it's even easier working for government, because unlike the private sector, they tell us exactly how they will be evaluating our work."
Winning a government contract helped Kindred grow their business
Andy Ravan, managing partner, Kindred, said: "By choosing to work with SMEs, government has access to a diversity of people and ideas; there is a real richness they can tap into.
"Winning a government contract has helped us grow our business. We have increased staff numbers by 10% per year over the past few years. Our clients find our track-record with government reassuring which has helped Kindred grow and attract new contracts. This gives us the confidence to invest further in our business and the people that work for us. It helps us become the type of agency we want to be.
"Also, we get to work on some of the most interesting challenges in the UK and understand the demands facing government. It's an incredibly rewarding and intellectually stimulating experience. To be working for the government is a badge of honour; we are very proud."
If you want to bid for and win government contracts:
visit gov.uk/openforbusiness to find out how to bid for and win government contracts.
use Contracts Finder to search for contracts worth over £10,000.
Published 21 March 2017