Case study
Sigma Precision: saving weight for aero-engine manufacturers
Fast-growing East Midlands firm flying high after developing lightweight, non-metallic pipe technology in EU-funded Clean Sky project.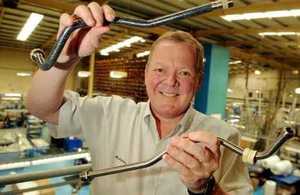 An EU-funded project that halved the weight of pipe fittings for aero-engines has helped to establish an East Midlands business as a world leader in its field, opening up new revenue streams and generating its own intellectual property.
Hinckley-based Sigma Components employs 750 people in the UK and China and generates annual turnover of more than £50 million by manufacturing precision-engineered components and fixings for the aerospace sector.
A recent management buy-out from the Avingtrans Group, with investment from Silverfleet Capital Partners LLC, valued the business at £65 million. Sigma Precision was founded as recently as 2005.
In 2012, as part of the Clean Sky Programme, the EU invited companies to come forward with ideas to develop lightweight, non-metallic pipes for aerospace engines. EU funding for the project totalled around €1 million.
Reputation for excellence
Sigma Components had already developed a reputation for excellence in manufacturing rigid metal pipes and tube assemblies for aerospace applications.
Many manufacturers were turning to non-metallics and composites for both airframes and aero-engine components, Sigma identified that no-one was working to develop this technology lower down the supply chain so the EU-funded SAGE (Sustainable and Green Engine) project, led by Rolls-Royce, was perfectly timed.
Over the next two and a half years, Sigma worked with its project partner, TWI, to develop a composite pipe, known as COMPipe.
The brief was to develop composite pipes that offered significant weight savings while meeting performance and cost requirements.
They used braided carbon-fibre and high-performance thermoplastics that could be manufactured more quickly than traditional composites and be engineered for specific applications. One of the biggest challenges they overcame was to achieve complex 3D geometries while maintaining leak tightness.
Intellectual property
With around 150 suitable pipe assembly applications per engine, they found that using composite rather than metallic pipes could offer total weight savings per engine of approximately 10kg. The knock-on effect for the rest of the aircraft was to offer likely empty-weight savings of 50kg for a twin-jet aircraft.
Mark Johnson, founder and chief executive of Sigma, said:
The project fitted well with our own strategy to develop lightweight pipes using composite materials.
We were also looking to future-proof the business, evolving from being primarily a make-to-print shop to a business that could generate its own intellectual property and invest in research and development.
Sigma is now talking to potential customers, in particular a large European OEM that expects to be engine-testing the composite pipes later this year.
As a result of the project, the company has strengthened its relationship with Rolls-Royce. Sigma is working on a number of spin-off R&D programmes and has added a new revenue stream by negotiating a contract for lightweight pipe end-fittings.
In January 2016, Sigma acquired for around £3.5 million Rolls-Royce's internal pipe manufacturing businesses which employ 132 people at Hemdale Business Park, Nuneaton, and another 110 at Xi'an, China. Mark added:
We're delighted with the results of the programme. Not only have we met or exceeded almost every requirement of the original brief but the programme has also been successful in meeting our own strategic objectives, generating our own intellectual property with patents. The project has also provided a springboard for further R&D projects.
Published 22 August 2016