Sellafield: remotely operated unmanned aerial vehicle combined with radiation mapping software
Riser (Remote Intelligence Survey Equipment for Radiation) reduces dose to operators and effectively characterises historic facilities to enable decommissioning progress.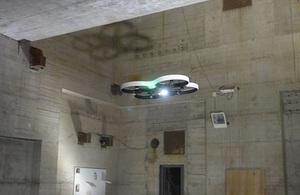 Background
The 1957 fire at Sellafield's Windscale Pile left radioactive contamination levels too high for decommissioning work to start. Although the intervening years have reduced these levels, remotely operated equipment is still needed to establish how the chimney can be cleaned out and dismantled.
Challenge
Accessing a high-dose environment and securing accurate information on contamination distribution
Solution
Remotely operated unmanned aerial vehicle combined with radiation mapping software
Technology
Remote Intelligence Survey Equipment for Radiation (Riser)
Benefits
Reduction in dose to operators from remote technology, effective characterisation of a historic facility to enable decommissioning to progress
Status
Deployed on site
Delivery partners
RISER - a step change in UAS capability - from Createc and Blue Bear Systems
Solution
The lightweight Riser (Remote Intelligence Survey Equipment for Radiation) system that combines 2 separate pieces of technology, drones and radiation mapping software. Both technologies received R&D funding through different routes.
In 2012, a UK-wide government initiative was launched by Innovate UK, the NDA, Department of Energy and Climate Change (DECC) plus the Engineering and Physical Sciences Research Council (EPSRC). Worth £18 million in total, the investment aimed to encourage companies, especially smaller businesses, from across the nuclear sector and beyond to collaborate on innovative ideas for potential industrial deployment.
The funds matched investment by private sector organisations. The money was shared among a wide range of projects at varying levels of development, covering all aspects of the nuclear sector.
The development of Riser, which built on the early NDA investment in N-VisageTM, illustrates 2 of the routes that can encourage technological development:
support at the early concept stage – from NDA's R&D portfolio
support for potential collaboration with other relevant technologies – from co-funded government initiatives including NDA's funding
ongoing support to explore how a technology can be deployed at site level - from Site Licence Companies (SLCs) as potential end-users
In 2009, Createc's N-VisageTM radiation mapping software project received a £50,000 investment from the NDA, enabling continuing development during the critical early stages.
Three years later, the NDA was part of a joint investment by government organisations in a wide range of UK nuclear R&D projects. This led to the collaboration between Createc and aerial systems specialist Blue Bear, together with on-site trials at Sellafield - and Riser was the result.
N-VisageTM's tailor-made technology detects and maps radiation with pinpoint accuracy, producing a 3D high-definition picture of contamination, quickly and safely. Developed and exhaustively tested over a number of years, the compact, lightweight N-VisageTM system has already been used inside one of the reactor buildings at Japan's Fukushima plant. The system is compact, lightweight and can be deployed though small openings, in tight spaces and in high-dose environments. Dose to operators is reduced as the technology is remotely deployed.
After many trials, Riser was deployed in the Windscale Pile where it has provided hugely valuable information about internal contamination that will enable decommissioning plans to be drawn up.
The drone, or unmanned aerial vehicle (UAV), is less than one metre in diameter and navigates using its 'collision avoidance' capability. Able to manoeuvre accurately inside complex industrial spaces, data is transmitted to the mapping system and is displayed, highlighting areas of contamination as well as radiation levels.
Published 4 July 2016