Saturn Bioponics: UK success just the start for 3D crop-grower
Innovate UK has helped a Midlands firm develop high-volume, crop-growing technology that can transform commercial food production.
Birmingham-based Saturn Bioponics has developed technology called the Saturn Grower that can produce 4 times more crop yield than conventional growing methods.
Founded in 2011 by Alex Fisher, the company has expanded this year to 6 employees following the recruitment of a head of business development, as it builds its commercial operation.
As well as signing contracts with leading growers, the company is now working with major crop buyers in the UK retail industry. Meanwhile, a planned partnership with a leading greenhouse company in Italy is the first of several overseas projects.
Saturn Bioponics has developed its technology through several Innovate UK-funded projects.
Funding for prototype
The firm won the DEFRA Innovate UK For Growth competition in 2012, receiving £25,000 to develop an initial prototype. Then in 2013 the firm earned an Innovate UK/SBRI contract funded by DEFRA totalling more than £500,000. This was significant, as Fisher explains:
That contract enabled us to create a real demonstration piece, and to retool the technology into pretty much the final version. We also conducted a lot of research around different substrates, different nutrients, and were able to engage farmers and potential end customers about the technology.
In 2015 the company received its most recent Innovate UK grant of £127,400. It funded a collaborative project with Valefresco, a large-scale salad supplier to many major British supermarkets. This venture enabled Saturn Bioponics to showcase its product in a commercial environment.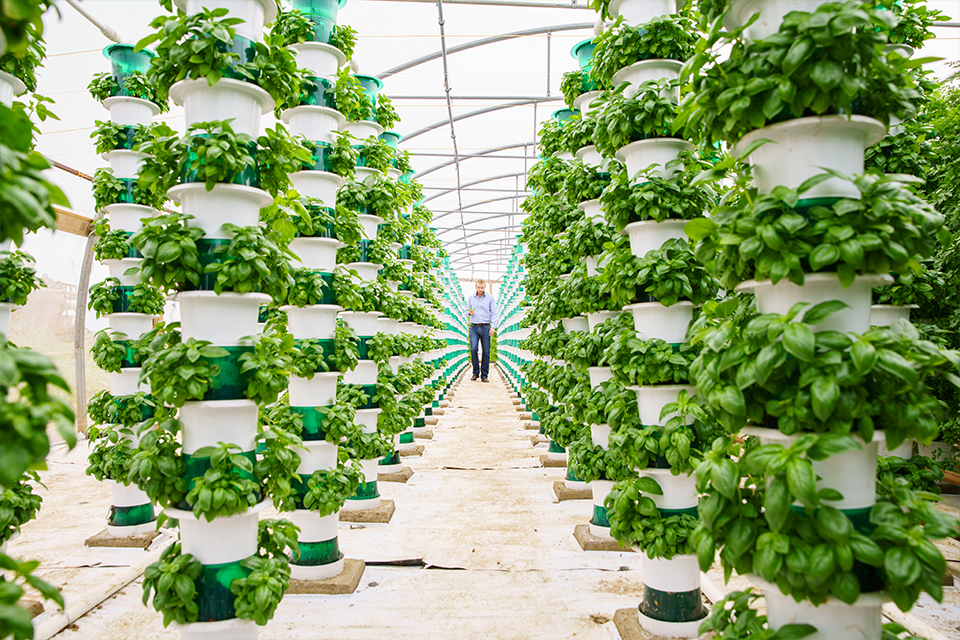 The Saturn Grower is a 3-dimensional system. Crops are grown hydroponically – without soil, in nutrient-enriched water – and organised into columns, using low-cost substrates. The vertical crop arrangement allows for 3 to 4 times the crop yield from the same amount of space in a greenhouse.
A variety of compact crops have been grown successfully in both trial and commercial conditions. That includes a diverse range of lettuce and leafy salads, leafy vegetables including pak choi, herbs such as basil and parsley, and strawberries, with yields up 4-fold on conventionally grown crops.
Intellectual property
The quality of the crops is enhanced through advanced hydroponic science. That results in longer shelf-life and improved flavour and colour. With a smaller root zone that is less susceptible to disease, the saleable yield can be as high as 100%.
Under licence, the technology can be replicated anywhere in the world, such is the quality of Saturn Bioponics' intellectual property. This puts the company in a strong position for the future, according to Fisher:
The primary food production industry needs to evolve. Tech like ours is an enabler for a more dynamic and integrated industry. From growers, to buyers, to retailers, we see our technology as being able to integrate the whole system.
We're aiming to position ourselves as the No 1 commercial hydroponic science company in the world, and we hope to be instrumental in delivering hydroponic science into commercial crop production.
Published 15 September 2017