Case study
Riversimple: the electric car that will never be sold
Innovate UK-supported research into carbon-fibre braiding, plus a sale of service model, contribute to future production of the hydrogen fuel cell-powered Rasa.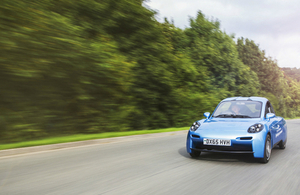 Lead engineer and co-founder at Riversimple, Hugo Spowers, started his career in motorsports, before beginning a very different journey - to bring hydrogen fuel cell cars to market - after recognising the car industry was environmentally unsustainable.
The Welsh company's business model focuses on keeping the car on the road as long as possible. It will offer customers of its hydrogen fuel cell-powered car a plan where all fuel and repairs are paid for under a monthly fee. That means it's in the company's interests to make the car as efficient and reliable as possible.
This is very different to traditional manufacturers, including low-emission vehicle makers, which encourage customers to upgrade regularly.
Riversimple – Innovate UK success story
It is all in keeping with the company's purpose, says Hugo:
To pursue, systematically, the elimination of the environmental impact of personal transport.
Low-cost volume production
Riversimple's first prototype Rasa was finished in 2016 and weighed just 580kg. It featured a low-powered 8.5kW fuel cell.
But while there is a working prototype, there are significant hurdles before it gets to market, for example, the initial high cost of production of any new technology.
This is something Riversimple hopes to overcome. The company has been researching new, low-cost volume production methods for its vehicles, via an Innovate UK-funded project with the University of Manchester.
The project developed a carbon fibre braiding system. This enables lower-cost volume production processes for advanced composite structures for cars, among other benefits.
Hugo says:
(The system) enables us to bring the cost down, as it's a semi-automated process and it'll be much easier for us to achieve conformity of production.
This conformity will also help bring the car to market as it's central to safety approval rules.
If you crash one car in a test to prove it's safe, you've got to then demonstrate every car you produce does the same thing.
Sale of service – an environmental approach
In focusing on the environmental impact of the automotive industry, Hugo believes that a drastic change in approach is necessary.
Fuel cell technology is so dramatically different to combustion engines that you've got to start again with a clean sheet of paper.

You've got to build it in a different way with different materials, different facilities, and a different business model for the customer.
This resulted in the company devising a novel sale of service model, which it is hoping will set its car apart from other low-emission vehicles.
The idea is that customers will sign up for 1 to 3 years – like a mobile phone with a monthly direct debit. At the end of the contract, customers will have the option to extend for a reduced fee.
This makes it in Riversimple's interest to continuously strive for efficiency to ensure its model remains profitable.
Going down the supply chain
To ensure its ethos live throughout the supply chain, Riversimple has worked on another Innovate UK-supported project alongside component suppliers to encourage these companies to adopt its model as well.
This means that the company is essentially paying suppliers for the service of their components in the same way its customers are contracted to Riversimple. It means those suppliers will also have a vested interest in ensuring the components are more efficient and long-lasting.
The result should be the development of a sustainable, more environmentally-friendly cycle.
On the road
Riversimple now plans to run local customer trials, before going into production with the Rasa in 2020.
Published 15 December 2017