Case study
Phonic Books increases exports by 25% following market research
UKTI's Export Market Marketing Research Scheme helps Phonic Books win business in Australia.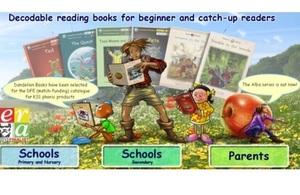 Phonic Books initially focused on the UK market for sales of their structured reading books and teaching resources to teach synthetic phonics.
However in 2010, following ad-hoc export orders from a range of countries and increasing overseas interest they decided to investigate export opportunities
Phonic Books initially focused on the Australian market after receiving 2 promising enquiries from separate Australian distributors.
Phonic Books found out about UK Trade and Investment (UKTI) when researching trade missions. Their assigned International Trade Adviser (ITA), John Doorman recommended use of UKTI's Export Marketing Research Scheme (EMRS) to research the dynamics of a potential overseas market prior to creating an export strategy.
Global export success
Up to a million children are now enjoying the books. They're used in about 5,000 schools throughout the UK and are exported to 50 countries. Since use of EMRS exports have grown dramatically, accounting for 25% of the total business.
Alex Tweedie, Export Manager, Phonic Books, said,
We found the EMRS to be a most useful scheme.

The people we dealt with were professional and flexible and we really appreciated the discipline of putting together our research proposal and closing report as it made us think about what we'd learnt and how we could develop our business strategy.
Creating a research plan for Australia
Alex Tweedie worked with Clive Hogan, Research Adviser for the South West, to create a research plan for Australia.
Alex Tweedie said,
Putting together the plan was a very good discipline and Clive was extremely helpful and ensured that we got the job done!
They identified the main decisions Phonics Books needed to make including:
how to approach each sector of the Australian schooling system (based on understanding the dynamics of state, federal, private and church funding)
whether they should they target special needs teaching or mainstream (clearly requiring information about relevant policies)
which distributors would best represent their business
what pricing strategy would be required to cover all the costs of shipping and taxes
Visiting the market
Co-founders of Phonic Books Alex and Wendy Tweedie spent 16 days in western Australia, Victoria, Canberra, Queensland and Sydney in August 2010.
They conducted interviews with schools, teachers, pupils, policy makers, Learning Difficulty Centres, potential distributors and staff at British consulates using a discussion guide to ensure consistency across all meetings.
Phonic Books were also introduced to the very active Specific Learning Difficulty (SPELD) network in Australia.
Research results
As a result of the research, Phonic Books gained a solid understanding of the Australian market for reading books.
It became apparent that each region of the Australian schooling system would need to be treated individually due to different approaches.
Developing exports to Australia
Phonic Books has now established a distribution network in Australia, which is being refined for each state.
The on-going relationship developed with SPELD helps the team to develop their understanding of the market, and forge important relationships.
Uptake of the books in Perth was initially through Special Needs and then latterly into mainstream teaching. Phonic Books continues to work with important contacts to replicate this success throughout the rest of Australia.
The Phonic Books team also developed strong relationships with Special Needs Teachers in Australia.
About Phonic Books
Phonic Books Limited, based in Malmesbury, was founded by 3 'special needs' teachers, from the Bloomfield Learning Centre at Guys Hospital.
They decided to write, illustrate and publish their own books after the UK government adopted Synthetic Phonics as the preferred method of teaching reading in 2006. Increased customer demand due to the lack of structured reading books and teaching resources enable them to extend the initial 10 titles to 254.
Fast facts
Company: Phonic Books
Industry: Education
Target market: Australia
UKTI Service: Export Market Marketing Research Scheme
Website: www.phonicbooks.co.uk/
Published 27 May 2015