Case study
Open data: water quality at Summerleaze Beach
How Volunteer Cornwall is working with Environment Agency water data to inform visitors about water quality.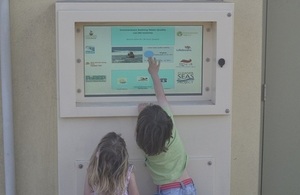 The Environment Agency is working in partnership with Volunteer Cornwall to deliver the Bude Cleaner Seas Project. This aims to raise the bathing water status of Summerleaze Beach from 'good' to 'excellent' by 2015, which will benefit the tourism industry as well as the local community.
As part of this project, visitors to Summerleaze beach can instantly get up-to-date information about how clean the water is from an interactive touch-screen display at the entrance.
The screen is the first of its kind in England, and gives users a range of information about the water, including the size of the waves and the weekly e-coli and intestinal enterococci results. It also shows the MET office Bude weather forecast, Bude surf reports, Twitter feeds for organisations operating in the area and useful contact numbers.
The data is collected by the Environment Agency and made available via their Bathing Water widget as part of a move to open up more government data to the public.
Summerleaze beach has also been selected to take part in an Environment Agency short term pollution prediction trial, so the screen has been developed in such a way to display future warnings based on predicted rainfall events.
Lucy Hunt, Environment Agency Manager, said:
An important part of the new [EU] Bathing Water Directive is how we inform people of quality of water at their beaches. The pilot is a first for us, a chance to see how it will work… It means parents will be able to check conditions before their children go in the water; likewise, surfers and other users.
Get involved
If you'd like to see more great apps using open data or find out more about how they are made, visit www.data.gov.uk or tell us which of our unpublished datasets could bring economic or social benefits.
Use the search function to find data that's important to you and click on the dataset to add your feedback.
Published 24 October 2013