Case study
On the frontline of Ebola
Watch British medic Stacey Mearns tell her story of fighting the disease in Sierra Leone.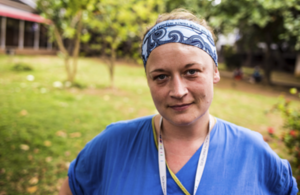 Doctor Stacey Mearns has been helping patients to battle Ebola since October 2014.
She knows the job could cost her life, but she says there is nowhere else she'd rather be.
Dr Mearns is part of the King's Health Partners team at Connaught Hospital in Freetown - supported by UK aid.
It's demanding, challenging work - but she finds inspiration in her colleagues:
I'm inspired on a daily basis by the local Sierra Leonean health staff. Like me, they believe humanity is a greater thing than themselves.
Credits
Thanks: Stacey Mearns, for her amazing work, the team at Connaught Hospital and King's Health Partners.
Pictures: Michael Duff
Additional pictures: Jo Dunlop/King's Health, Leah Tepper Byrne/Save the Children, Mads Nissen/Panos, Samuel Aranda/Panos
Production and editing: Simon Davis
Published 22 December 2014