NDA archive: Nucleus (the Nuclear and Caithness Archives)
A new facility, called Nucleus (the Nuclear and Caithness Archives), has been built in Caithness to manage the nuclear industry's records.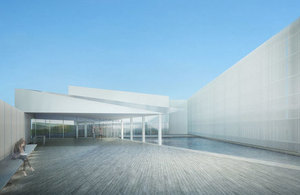 Note: Nuclear records from across NDA's estate are currently being transferred and indexed. Access to nuclear documents via this facility is not yet available, but will become available over time.

Documents can be requested through a Freedom of Information request or a request under the Environmental Information Regulations.

Please phone 01925 802077 or email enquiries@nda.gov.uk
Background
Vast numbers of civil nuclear records, plans, photographs, drawings and other important data and information, some dating back to the beginning of the UK nuclear industry, are currently stored in locations across the country. Some are held at NDA sites and others by a variety of commercial organisations. Very few of these collections, however, are managed to the standards required of the NDA as a public authority; some are even stored in buildings scheduled for demolition.
The NDA is accountable for these records and has a solution to ensure that:
they remain secure
their integrity remains intact (many of them will be required for hundreds of years)
they are accessible in line with legislation and the relevant regulations
New archive open
The doors opened at the unique nuclear archive building in February 2017. Dounreay's records were the first to be transferred, including almost a third of a million photographs and 200 tonnes of documents. Material from the other 16 sites will be moved in gradually, in a programme expected to take at least five years. Sellafield Ltd alone has more than 80,000 boxes of archived records in off-site storage, plus material on site and in various offices – estimated as stretching, if laid out, to more than 120km worth of paperwork. Magnox Ltd, with 12 sites, has a similar-sized collection in storage.
In the longer term, a searchable Archive Management System will provide online access to the material, however security restrictions will apply to certain categories of records.
Location
The NDA embarked upon the project to find a single UK home for all the relevant material in 2005, following a careful evaluation of the options and costs.
As part of its socio-economic remit, the NDA focused the search for a suitable site within 4 priority regions - areas where ageing nuclear sites have long been a dominant influence in the local economy and where site closures will have greatest local impact.
Caithness, with 2,000 people working in decommissioning, was selected as the region most likely to benefit. The closure of its major employer, Dounreay, is set to happen by 2030. Nucleus (The Nuclear and Caithness Archives) is located near Wick Airport, Caithness, not far from the Dounreay site, and will be built to all relevant UK archive standards.
Training and employment
The NDA's aim is to develop Nucleus (The Nuclear and Caithness Archives) as a base for training archivists and offering apprenticeships, linking up with the University of the Highlands and Islands, and North Highland College. Much of the information will eventually be digitised and made available for online access.
The facility also provides a permanent home for the existing North Highland archive which had outgrown its previous location above the Wick library. This archive is a popular attraction for visitors seeking information about their and others' Scottish heritage. The NDA hopes that Nucleus (The Nuclear and Caithness Archives) will help sustain and add to the level of interest in local history as well as history of the UK nuclear industry.
Restore Scan Ltd, will manage Nucleus (The Nuclear and Caithness Archives). 25 permanent positions have been filled at Nucleus, with the majority of the recruits coming from the local community, while the construction phase generated dozens of additional temporary posts and led to opportunities for local contractors.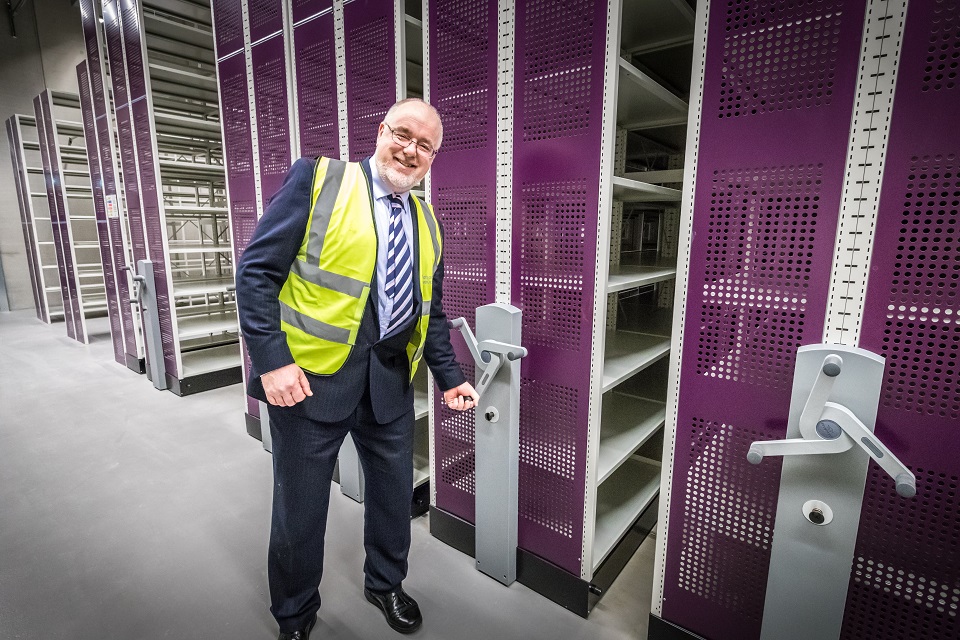 Flickr: more photos from the ongoing construction of Nucleus (the Nuclear and Caithness Archives) in Wick
Design features of the building
The project has collected a number of awards including:
Designed by Edinburgh architects Reiach and Hall, the triangular building has a large public area, including a reading room and community space for exhibitions, study or training.
Morrison Construction was awarded the main build contract and the 12-month construction phase generated contracts for almost 30 businesses, most of them based in Scotland.
Nucleus Archive - video showing construction progress
BREEAM sustainability assessment: excellent at Design Stage Certification (77.7%)
The project team consulted with local stakeholder groups and maximised the use of locally-sourced materials to support the local economy.
The innovative and low impact design features of the building include:
The site plan and building plan maximises the use of daylight while minimising the impact of the prevailing wind. Within the public and ancillary accommodation, solar gain and any overheating associated with the strong south and south west sun are buffered by the heavyweight construction of the double-height archive block.

The orientation, as well as the relationship between the archive block and low level public and ancillary accommodation, are key to the sustainable approach of the design's passive heating and ventilation systems, which help to minimise mechanical solutions.

The project is a flexible solution which allows the archive building to accommodate change over its lifetime.

To ensure the long-term durability of the building, materials were selected to a robust specification appropriate to the hostile weather conditions encountered locally.

Rainwater harvesting is expected to provide all the water required for WC flushing.

Water saving features will include low use sanitary appliances, leak detection and leak wastage measures.

Low carbon emissions will be achieved by a passive-design approach, excellent daylighting and energy efficient services creating an energy performance rating of B+ and a 20% reduction in energy consumption compared with conventional new constructions.

Low carbon biomass heating will reduce carbon dioxide emissions by a further 25%.

The internal lighting will maximise the use of low energy fittings which maintain a good efficiency and excellent light quality while supplementing daylight levels. External lighting is being developed to limit light pollution and to eliminate glare.

Performance-based thermal comfort has been developed through advanced modelling.
Summary
Basic building cost - £4179/m2
Services Cost - £1194/m2
External works - £2985/m2
Gross floor area – Ground Floor 4488.3m2First Floor 536m2
Total area of site – 5,368 Hectares
Functional areas and their size - 3590.6m2 at ground floor level
Area of circulation – m2(R&H); 657.1m2
Area of storage – m2 (R&H); 1958.3m2 (rooms 51- 59 inclusive)
% area of grounds to be used by community - N/A
% area of buildings to be used by community – 10.76% (entrance lobby, foyer, community room, public toilet facilities, public search room)
Predicted electricity consumption – 66kWhr/m2
Predicted fossil fuel consumption – negligible kWhr/m2
Predicted renewable energy generation – 56kWhr/m2
Predicted water use – 4m3/person/year
% predicted water use to be provided by rainwater or greywater - 20% (Arup)
The steps taken during the construction process to reduce environmental impacts:
A bird-nesting survey was carried out at the start of the works to ensure works were not impacting on any species
Eco-cabins have been used
No excavated material has been removed from site
Social or economically sustainable measures achieved/piloted:
Morrison Construction has employed four permanent local staff members for the duration of the project – Site Administrator, Gateman and 2 Operatives. 2 local Trainees – Trainee Site Manager and Trainee Administrator. 2 Local Apprentice Joiners.
Pulteneytown Peoples Project Programme – 11 week work placement for a local individual interested in construction.
Supply Chain – 12 Apprenticeships – G&A Barnie, John Gunn and Sons and Metalwork UK; 1 summer placement – Student QS with John Gunn and Sons.
10 Local companies employed to date: John Gunn & Sons Ltd, G & A Barnie Group Ltd, Steve Blackwood, Caithness Flagstone Ltd, Allan Gow Groundworks Ltd, Allan Ingram, Petrie Painters, Metalwork UK (Tain), Pat Munro (Alness), GMR Henderson Builders Ltd
Community – Stakeholder visits; visits from North Highland College, Engineering & Construction students; participation in Caithness Safe Highlander events with local schools; donation of £100 to RSPB for nesting birds; Learning Through Work Week – Construction Careers.
Noss Primary School – Provision of football strips; provision of goody bags to P7 pupils moving up to secondary school; assistance with the Green Flag Eco-Schools initiative; provision of portaloos for school sports day; donation of workboots to the school nursery classes for painting and assisting with their planting and growing project. Morrison Construction made Mud Kitchens out of old pallets for the school.
Wick Lifeboat Station: for Wick Harbour Day MC made stalls and shelters and sponsored their stall. SOS Fundraising: Morrison Construction provided a challenge, materials and helped raise over £700
Police Scotland – Morrison Construction assisted local police force at their Speed Awareness Day.
Related information
Records management and personal data policies:
Published 15 December 2015
Last updated 7 November 2018
+ show all updates
Nucleus wins RIAS Andrew Doolan Best Building in Scotland Award.

Inserted note on availability of nuclear records and the donations and acquisition policy links.

Added section on nuclear archive opens

Updated to reflect opening of the archive.

More details on the design features of the building added

Progress update added to show building progress.

First published.