Case study
Manufacturer meets international demand with support from UKEF
Northern Ireland-based manufacturing firm can complete larger contracts and projects across the world.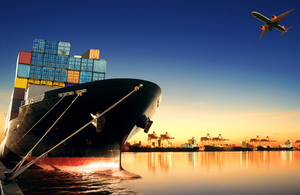 Derry-based Sphere Global is a leading provider of state-of-the-art automation solutions for a range of UK industries, including the pharmacy, food and drink, postal and distribution sectors. It provides full design and planning as well as 3D drawings and factory layouts for its proposed solutions.
Demand for Sphere Global's expertise has grown among international clients, and the company has won new customers in the UAE and India. This success created a requirement for additional working capital to make sure it was able to fulfil the order. With the benefit of a guarantee from UK Export Finance, its bank was able to provide Sphere Global with £1.2 million in funding, allowing the company to complete larger contracts and projects across the world.
Sean McNicholl, CEO of Sphere Global, said:
This funding has enabled us to set our ambitions significantly higher. This is a huge step for Sphere Global, and will really increase our outreach and business opportunities across our selected sectors, giving our potential clients the financial security they need when considering large scale contracts.
More information
New business enquiries
Our helpline is open from 9am to 5pm.
Published 22 September 2016