MDGs in focus – MDG 6: Combat HIV, AIDS, malaria and other diseases
Find out how DFID is helping to tackle malaria in Nigeria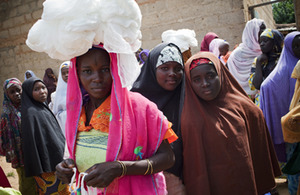 Twenty-six-year-old Aisha smiles as she ducks under the new mosquito net covering her mattress. Her daughter, 2 year-old Fatima plays at her feet, twiddling the end of the net that hangs down. She's a happy, healthy child, full of life.
But less than 6 months ago, Fatima's situation was very different. She was extremely weak, having convulsions and suffering from severe malaria.
Worried that her child might die, Aisha carried her to the local clinic where she was admitted.
Thankfully, after a stay of 2 weeks, Fatima was well enough to return home to her village in Tarauni, an area just outside of Kano, Nigeria.
However Aisha didn't know how to protect her family in the future - she didn't own a mosquito net at the time and wasn't aware of its benefits.
"After Fatima was so sick with malaria I worried that it would happen again to one of my other children," says Aisha.
"But then I heard from our town announcer they were going to give out free nets to stop malaria. Now I have covered our bed and there will be no more mosquitoes in here, and no more fever."
Passing on the message
Aisha's new nets arrived thanks to UKaid from the Department for International Development (DFID). In 2008, DFID launched the £50 million Support to the National Malaria Programme (SuNMap) which aims to help the government of Nigeria distribute two long-lasting insecticidal nets to every household.
Led by the Malaria Consortium, the DFID-funded SuNMap programme also increases community awareness of malaria treatment and prevention.
Radio broadcasts promote the benefits of the nets and community leaders educate people about the importance of hanging them up every day.
Town criers, like the one that Aisha heard, announce the delivery of the nets to their village. The messages that they shout have been carefully developed and tested. They focus on the importance of the nets, the link between mosquitoes, malaria and net use, where to get the nets and how to care for them. Importantly, they teach people to "Use the Net" rather than re-sell it or turn it into a fishing net or a sieve for cooking.
Preventable and curable
Women like Aisha are particularly vulnerable to malaria, which is responsible for 11% of maternal deaths in Nigeria. And, although malaria is completely preventable and curable, more than 300,000 children die from the disease every year in the country.
Global figures are equally as shocking. About 3.3 billion people - half the world's population - are at risk of malaria and more than 2,300 people die from the disease every day. In Africa, a child dies from malaria every 45 seconds.
But encouraging people to sleep under insecticide-treated nets could be one solution to this problem. They are easy to use and offer a safe, proven and cost effective way of tackling the disease.
So far DFID has helped to deliver 14.2 million bednets to countries with high malaria burdens and a further 2.7 million nets were ordered by the department between April 2008 and December 2009.
Net value
The message telling people where and when to collect their nets has been so successful in Nigeria's Kano and Anambra states that thousands of people flock to their local net distribution points.
Zainab Abdu is one of the women waiting in line to receive her net. She already lost 1 of her 2 sons to malaria when he was 6 years old.
But thanks to SuNMap's messaging campaign, Zainab knows the importance of her two free mosquito nets.
"He was not sleeping under a net," she says. "If he was sleeping under a net he would not have got malaria."
"After the net is aired, tomorrow I'm going to hang it on the bed and sleep under it with my son. My husband will sleep under the other net."
SuNMaP operates in 6 Nigerian states and has distributed two million long-lasting insecticidal mosquito nets. Since 2009 it has supported the government of Nigeria and other donors to help get an additional 20 million nets to people like Aisha and Zainab. 
The bigger picture on malaria, HIV and AIDS
Half the world's population is at risk of malaria, a disease which disproportionately affects the poor, children and pregnant women.
Thanks to programmes like SuNMap in Nigeria, which are funded by DFID and other international donors, progress is being made. We know what works to prevent and treat malaria in a highly cost effective way. But not enough people have access to these proven interventions and to reach the MDG target of "halting and beginning to reverse the incidence of malaria and other major diseases" there is still much that needs to be done.
However, the UK government is set to put the fight against malaria at the forefront of aid efforts, as International Development Secretary, Andrew Mitchell, explains:
"Malaria is a preventable disease - yet it kills over 800,000 people every year and a child in Africa dies from malaria every 45 seconds. This is an appalling death toll that we cannot ignore.
"Tackling this disease will be one of my key priorities. We will support malaria interventions that are working and be unremitting in our focus to reduce malaria deaths."
Agreeing action to reduce malaria deaths will be a key priority at the UN MDG Summit in September.
HIV and AIDS
As well as tackling malaria, Millennium Development Goal Six also focuses on HIV, AIDS and other diseases.
Although important progress has been achieved in preventing new HIV infections and in lowering the annual number of AIDS related deaths, the number of people living with HIV continues to increase. For every two people starting treatment, five others become newly infected - more than 7,000 people each day.
According to a UNAIDS estimate, there are more than 33 million people worldwide living with HIV and 15 million children have been orphaned by the disease.
The United Nations target - supported by the UK and enshrined in MDG 6 - to halt and reverse the spread of HIV and AIDS by 2015 remains a long way off.
All photos by William Daniels for Malaria Consortium.
Published 3 August 2010