Case study
Maverick Drinks secures £50,000 sales of spirits in US market
UKTI has helped Tunbridge Wells based novice exporter Maverick Drinks win their largest order yet for whisky and gin with large American retailer.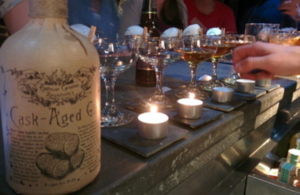 Maverick Drinks won a £50,000 order with a Chicago-based large US retailer, just 2 months after returning from a UK Trade & Investment (UKTI) funded trip to the USA.
The order was for their international award winning spirits including:
That Boutique-y Whisky Company
Bathtub Gin
Rumbullion! by Professor Cornelius Ampleforth
Michael Vachon, Head of Brand Development at Maverick Drinks, said:
This order marks the beginning of our expansion across the US and the continued development of our global brands. It's a great example of how an entirely British-owned company is creating a completely unique product in a crowded global market place.
The company was established in 1994, but only began exporting a year ago. Since then they have secured orders across the European Union (EU), but the US deal is their first order outside the EU.
Maverick Drinks are now set to expand beyond Chicago with help from UKTI. They also hope to visit Canada and Mexico later this year.
Opportunities in US drinks market
It may seem that the market for spirits in the US is saturated, but Maverick Drink's success shows there is still a market for high quality boutique products.
Peter Warren, International Trade Adviser for UKTI South East said:
Provenance and craftsmanship are becoming key drivers of consumer taste in quality gins.
The main trends in the US spirits market are:
worth USD$62 billion, but growing at 3% per annum
growth of super-premium products
Scotch whisky makes up 25% and vodka 35% of spirits market
growth of category innovation as young consumers experiment
increase in craft spirit distilling
How UKTI helped
Maverick Drinks joined UKTI's flagship Passport to Export programme in February 2013. This export assessment and support scheme for small and medium-sized enterprises (SME) helped them prepare to enter new markets.
Michael Vachon said,
We wouldn't be in the position we are without UKTI's support.
Top tips for exporters in US market
Peter Warren's top tips for entering the US market are:
thoroughly research the market opportunity
select your importer with great care
concentrate on 3 States first, probably New Jersey, California, and Florida
get a legally binding importer agreement
motivate your importer with regular market visits
Maverick Drinks
Maverick Drinks was founded in 2013 as the distribution arm of ATOM Supplies Ltd, who also run the online spirits retailer, Master of Malt. Maverick Drinks has a portfolio of premium spirits brands that have been recognised both for quality and innovation.
Contact us
Book an appointment with an export adviser if you're interested in developing your business overseas.
Published 29 July 2014