Case study
Making Scotland's roads safer with Traffic Management Technology
Crown Commercial Service helped Transport Scotland to tackle a notorious accident blackspot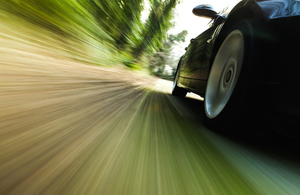 The issue
The A9 in Scotland is a route that has previously been described as one of the most dangerous roads in the UK. The highways authority, Transport Scotland, engaged suppliers using Crown Commercial Service's Traffic Management Technology (TMT) agreement to provide speed enforcement systems.
JENOPTIK Traffic Solutions UK won the tender opportunity and supplied SPECS cameras to the route. SPECS, originally manufactured by Speed Check Services (from which it takes its name) is a speed enforcement system using linked Automatic Number Plate Recognition (ANPR) cameras to monitor the average speed of traffic over a section of road, or network of roads.
SPECS cameras are proven to have a demonstrable and consistent influence on driver behaviour, reducing casualties through compliance with posted speed limits and a harmonisation of vehicle speeds where they are installed.
Using the TMT agreement made the tendering and evaluation procedure substantially simpler, faster and more cost effective for Transport Scotland, meaning that they could focus their time and resource in other areas.
The results
As a result, the route has seen significant reductions to the Killed or Seriously Injured (KSI) casualties, with the latest figures for the A9 showing a 62% reduction. A range of other benefits attributed to sustained changes in driver behaviour have also been identified, including improved journey time reliability along the route and a reduction in incidents and incident impact.
The project has been recognised at a national level, with Transport Scotland winning a Prince Michael International Road Safety Award in December 2016.
Find out more
CCS has recently superseded the TMT agreement with a broader and modernised replacement. This agreement offers the public sector a competitive route to market for goods and services in this field with access to 87 suppliers.
If you would like to know more about our Traffic Management Technology 2 agreement, take a look at the dedicated Traffic Management Technology webpage or call us on 0345 410 2222.
The Crown Commercial Service (CCS) works with central government departments and organisations across the whole of the public sector to maximise the commercial benefit of public procurement and improve the quality of service delivery.
The CCS goal is to become the "go-to" place for expert commercial and procurement services.
Published 6 April 2017