Building Dutch-style cycle infrastructure in outer London boroughs.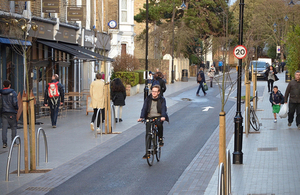 | | |
| --- | --- |
| | |
| Location of intervention | Enfield, Kingston and Waltham Forest |
| Contractor/delivery partner | TfL and London boroughs |
| Scheme implementation dates | 2013 to 2014 – 2020 to 2021 |
| Cost of scheme | £90 million |
| Funding source | TfL |
| BCR | Not available |
Why we did it
The Mini-Holland scheme is part of the London Mayor's Healthy Streets Approach and is aimed specifically at outer London boroughs where residents are more car-dependent than inner London. It aims to make these boroughs as cycle-friendly as their Dutch equivalents – where more than 50% of journeys are made by cycle in some cities.
Reducing car dependency will reduce pollution, traffic danger and congestion. Increased active travel will also improve resident's health and quality of life.
How we did it
The Mini-Hollands programme aims to address the demands of growth in outer London. Each of the 3 participating boroughs was awarded £30 million funding to transform the environment for cycling. In Enfield and Waltham Forest this was matched by an additional £15 million contributed to the programme from the boroughs own sources.
What we did
Mini-Hollands aim to make cycling pleasanter, safer and more convenient. The infrastructure changes include; segregated cycle lanes; measures to calm motor traffic; redesigned town centres; cycle hubs and a range of behaviour change measures including community bike rides. The schemes also include measures to improve the walking environment such as new pedestrian crossings at key locations, and the creation of new public spaces with seating, trees and flowerbeds.
As of June 2019, 46 of the 59 proposed infrastructure schemes were complete or under construction. All interventions are due to be complete by March 2021.
What impact did it have
Although many of the schemes are still in delivery or very recently completed, there is evidence of a positive impact on active travel behaviour. A study investigating the early impact of the program discovered that people in high-dose areas were 24% more likely to have done any cycling in the previous week, and walked or cycled for 41 minutes per week more than those where such improvements have not yet been made.
Mini-Holland status was also associated with a more positive perception of the local cycling environment and the community.
Key figures
£15 million contributed to the programme from the boroughs own sources
24% more likely to have done any cycling in the previous week
59 proposed infrastructure schemes
Published 7 February 2020