London architects lead the way in sustainable, digital design
David Miller Architects win industry award for giving a new lease of life to 18th-century barns, using building information modelling.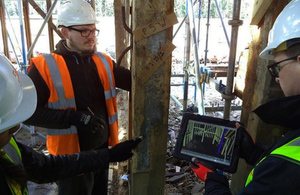 A project to convert a group of 18th-century agricultural buildings into homes has earned a London architecture firm industry acclaim for best practice and achievements.
The Royal Institution of Chartered Surveyors (RICS) awarded David Miller Architects (DMA) the 2017 RICS BIM4SME Award for 'Best Use of BIM for Sustainability' for its Anstey Hall Barns development.
Building information modelling (BIM) is championed by government as a way of digitising and bringing together in one place information about every component of a building. That data is then available to those who plan, design, construct, operate and maintain buildings and infrastructure throughout their lifecycle.
From 4 to 20-strong
DMA started out in 2000 as a team of 4 people. It has since grown to a 20-strong firm with a comprehensive portfolio that embraces BIM.
It uses BIM strategies to solve difficult problems around design, programme and budget to achieve better outcomes and to break down traditional barriers to collaboration. This approach has enabled the team to work on larger, more complex projects.
David Miller, Director and Principal Architect, explained:
Now in 2017, on a day-to-day basis, BIM has become the norm at DMA and all our design work is digitally-led.
A closer look at Anstey Hall Barns
For the Anstey Hall Barns project, the team were tasked to design 8 luxury conversions for the 18th-century buildings and 4 new homes.
A complication was that the barns included irregular, dilapidated and Grade 2-listed, timber-framed structures. To meet building requirements for the historic barns and achieve a high-quality, DMA recommended a fully-digitised approach.
Using BIM Level 2 protocols, DMA was able to improve product design, delivery and operation while reducing waste, costs and time. Increased use of technology also enabled complex conservation issues to be resolved more quickly.
BIM strategies lead to profitable growth
For DMA, there were also cost benefits in adopting BIM.
After reviewing fee income against initial BIM implementation costs, the company saw that, in the early stages, costs and income stayed parallel. But, once it was more experienced in digital strategies, it started to see real efficiencies and profitable growth.
David continued:
By reviewing metrics from our audited accounts, it is evident that our digital design delivery process has achieved higher levels of efficiency. That is demonstrated by a year-on-year increase in turnover of around 20%, and higher-value, more complex projects being won and delivered.
The most important metric is that over 80% of our business comes from repeat clients, demonstrating high customer satisfaction levels.
Digital approach adds value
Since 2008, DMA has used BIM tools on all projects, from inception to completion. They are now beginning to apply it to asset management. For example, homeowners at Anstey Hall Barns have received an iPad with their property's BIM information. They can use this to capture occupancy performance data.
Its digital approach has been endorsed by auditors for external accreditations and by Investors In People, which has upgraded the company to gold standard.
David added:
As a result of BIM we have created stronger collaborations with our clients and consultant partners. This has allowed us to offer new services which add value and reduce risk. Other organisations recognise this, and that is unquestionably the uppermost incentive for following the path to BIM adoption.
Published 5 October 2017