Case study
Little Fish Theatre
An enterprising outreach theatre engaging London's youth, challenging social issues and delivering social impact.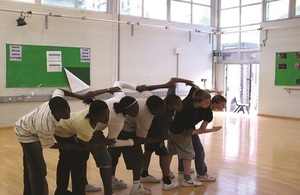 Does art imitate life or does life imitate art? At London's Little Fish Theatre, life and art feed each other to deliver positive social impact for the city's youth.
The CIC's mission is to produce high quality innovative theatre productions and drama experiences for young people in and around London. Through its activities, the company seeks to challenge social injustice and inspire personal and community growth and change.
Little Fish Theatre was born out of a charity called Big Fish Theatre set up by Alex Cooke and Kate Holdom.
But when Kate relocated to Devon, Alex stayed and opened the 'little' sister organisation to service existing contracts, which he runs with colleague Suha Al- Khayyat, as a CIC.
Since then the organisation has reached over 6,000 youth across five London boroughs, delivering a variety of education and community outreach projects in mainstream schools, pupil referral units and other youth at risk groups, through workshops and touring productions. The Little Fish Theatre tackles issues such as homophobia, drugs, street crime, violent extremism and sexual rights head on.
Little Fish became a CIC in May 2008. "Originally, because we were created as a legacy to Big Fish, we got core grant funding for two years to support Little Fish Theatre's development," says Cooke.
Now, however, the CIC model suits the Little Fish Theatre well. "It's useful because when we started, we weren't accessing trust and foundation grants. The CIC model seemed to be the best legal body for showing that you're a not-for-profit, but it's not as time-consuming as trying to run a charity. A CIC is definitely easier to run," says Cooke.
It comes with another benefit, he adds: "With two full-time members of staff and a relatively small turnover, we are still able to apply to grant providers. Not being tied to any one London borough means being able to work independently according to our own methodology, one we trust and believe in."
Working with young people on the cusp of the issues the theatre addresses, and challenging their value systems, can be a transformative experience for all involved.
"One of the greatest projects we've done," says Cooke, "was a piece about violent extremism for young people entering university or higher education.
"We were able to ask: what do you do if someone you know is becoming involved in politically motivated violent acts? How do you handle the situation, when a friend gets involved in criminality?"
Cooke says it was a rewarding challenge to open up an honest discussion about such a difficult and sensitive subject area. "The resulting piece was very simple and yet, according to those who watched it, very effective."
| | |
| --- | --- |
| Name | Little Fish Theatre |
| Location | Greenwich, London |
| Company structure | CIC limited by guarantee |
| Founded | 2008 |
| Community interest statement | Producing quality, innovative theatre productions and drama experiences for London's young people to challenge social injustice and inspire personal and community growth and change. |
Find out more about Little Fish Theatre
Published 12 November 2013