Case study
Frame of Mind now known as Frame of Mind (Vocational Training)
An award-winning CIC helping socially excluded adults learn new skills and work towards employment.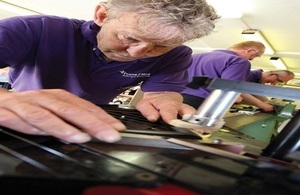 It was during the mid-90s that Theresa Bates, a data processor from the north east of England, developed depression and anxiety for no apparent reason. Life was a struggle for many years. It wasn't until her husband, Ian, found a new job in 2000 and they moved to West Sussex that things began to improve.
Theresa eventually began learning woodwork at a local sheltered workshop, supported by Sussex Partnership NHS Trust. After a year, her confidence was boosted when she was offered a part-time project worker post. In this new role she trained adults with mental health issues and learning disabilities in picture framing, something she had previously learned at a centre in her home town.
Sadly the West Sussex project closed down in 2006, but the Trust was happy to support the couple when they proposed setting up a new, similar project. They called the business Frame of Mind now known as Frame of Mind (Vocational Training) and now operate it as a community interest company. The business now provides training places for social care service users through self-directed support payments from their individual budgets. These, along with the sales of frames and digital printing, keep the business operating smoothly.
"Everything was completely new to us at first," says Ian. "We went to the Brighton University social enterprise network and found that very useful for advice and support along the way."
The CIC currently trains 24 hard-to-reach, socially excluded adults with mental health issues and learning disabilities, who are often overlooked by mainstream employers. They work at Frame of Mind now known as Frame of Mind (Vocational Training) two days a week to help them on the road to employment, volunteering or further training.
Originally the business was set up as a limited company, as Ian explains: "We were anxious to get things going and thought it might take a while to set up as a CIC, so we formed as a company and then applied for CIC status. In the end it only took four weeks for us to officially become a CIC. We chose the model because we liked the fact that everything is externally checked by a regulator, so we know everything is being done right.
"Our community has a real need for this service," he adds. "Many of our trainees from Chichester, Bognor Regis and Selsey live in areas that are in the top ten per cent of wards nationally for occurrences of mental health illness."
Last year Frame of Mind now known as Frame of Mind (Vocational Training) was one of only four companies shortlisted nationally in the Trailblazing Newcomers Award in the RBS SE100; they were also listed in the Social Impact Leader table containing the top 12 per cent of social enterprises nationally for measuring social impact.
The CIC offers a popular service to the local area, and Theresa and Ian are proud to be keeping a traditional craft alive. In fact, Theresa herself is now a qualified Guild Commended Framer, of which there are only just over 1,000 worldwide.
It has been a momentous journey for the couple with some incredible results. They are contributing to a healthier, happy life for themselves and for their community, which is what being a CIC is all about.
| | |
| --- | --- |
| Name | Frame of Mind now known as Frame of Mind (Vocational Training) |
| Location | Bognor Regis, West Sussex |
| Company structure | CIC limtied by shares |
| Founded | October 2006 |
| Community interest statement | To support employment and vocational/life skills training for socially excluded people in West Sussex through a sustainable picture framing service. |
Find out more about Frame of Mind now known as Frame of Mind (Vocational Training)
Published 12 November 2013
Last updated 27 November 2015
+ show all updates
CIC changed it's name.
First published.