Case study
Leicester company secures first overseas order in Oman
Training company, SWA, wins first export order after joining UKTI trade mission to the Gulf.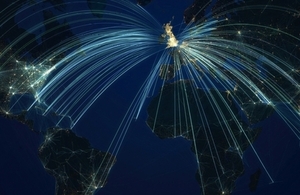 The trade mission, organised by UK Trade and Investment (UKTI), helped enable SWA gain a contract to supply training to a high profile Oman company. This has already led to further enquiries worth over £250,000 by several other Middle East companies.
It means the ambitious business is on track to boost turnover from £2 million to £20 million within the next 7 years.
Steve Walker, the managing director of SWA, said:
This small initial contract is just the tip of the iceberg for us. By going through the process and ensuring we have a greater understanding of international markets we can now move forward with future plans.

This first project overseas has given us a taste of the process and how we will develop 50% of our growth from overseas work.
Gulf trade mission
The order was secured after the company joined UKTI on a trade mission to the Gulf in August 2013. From this they were introduced to a partner company and were able to undertake several meetings at the embassy. Attendance on UKTI's Passport to Export programme and Gateway to Global Growth set the scene for SWA.
Steve added:
We are now in the process of bidding for some huge projects across the Middle East and Asia, with UKTI's help.

This will certainly help create more jobs in the area in the future.
Thomas Schaal, International Trade Adviser (ITA) for UKTI East Midlands, said:
SWA have been a huge hit in the Gulf. The quality of their training has been recognised overseas and their ambition is admirable. I'm looking forward to continue working with the company to help them grow.
UKTI events portal
Events are one of the most effective ways to support companies that are looking for trade opportunities.
The UKTI events portal provides a single calendar view of all UKTI events and missions. It provides companies with detailed information on events to help you decide on the most appropriate events to attend.
You can find out more and view the current events on the UKTI events portal.
Thinking about exporting?
Fast facts
Company: SWA
Industry: Training
UKTI Service: events portal and UKTI trade adviser
Website: www.swa-uk.com
Published 18 September 2014