Case study
LA Sync a big hit for Jalapeno Records
UKTI's Market Visit Support scheme has helped Jalapeno Records attend LA Sync, which has led to US$150,000 of music sync deals in the US.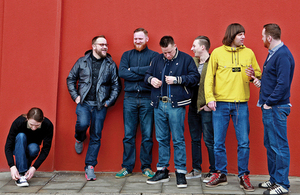 Jalapeno Records has joined several LA Sync missions organised by UK Trade & Investment (UKTI). As a result, the record label has secured US$150,000 worth of sync deals, with music by its artists featured on hit television shows like Grey's Anatomy and CSI.
Worthwhile investment
Jalapeno Records received funding through UKTI's Market Visit Support (MVS) scheme towards the costs of attending LA Sync in 2008.
During the mission UKTI arranged networking opportunities at high profile events, such as a Garden Party at the Consular General's residence in Los Angeles.
Trevor McNamee, the company's Managing Director, met key players in music, film and TV, such as:
heads of music at CBS Studios
heads of music at Disney
music supervision companies like Chop Shop
top independent supervisors
UKTI also hosts panel discussions, where music executives talk about how they prefer to receive tracks, and provide tips on how best to pitch to them.
Trevor McNamee, Jalapeno Records Managing Director, said:
It's been helpful to have the costs of attending LA Sync covered by UKTI. The level of connection that UKTI facilitates for us during the LA Sync Mission is outstanding.
Gold dust
Two sync deals came out of the first LA Sync that Jalapeno Records attended: one for Grey's Anatomy and the other for an independent feature film.
Following the mission, Trevor and some of the other labels in the delegation commissioned an Overseas Market Introduction Service (OMIS). The brief to UKTI in Los Angeles was to provide contact details and warmed up leads for around 50 music executives. Trevor has since had appointments with many of those on the list.
Trevor said:
The contact list that UKTI gave us through OMIS was like gold dust, having UKTI get in touch with them on our behalf gave us a massive competitive advantage.
Outstanding support
Jalapeno Records has gone back to the USA each year, either as part of LA Sync – twice more funded by UKTI's MVS - or independently. Trevor estimates these visits have generated around US$150,000 worth of sync deals for his artists.
In October 2013, Jalapeno Records sent one of its staff members on a 2-day seminar as part of Passport to Export, the UKTI programme that helps businesses to prepare for international markets.
Passport also provided match funding for a promotional campaign for one of the label's artists. This helped pay for exposure on radio, plugging, press and club promotions in France, Germany, Benelux and the USA.
Trevor said:
UKTI has really encouraged us in our export efforts.
I'd definitely advise other record companies to get in touch with UKTI - they really know what they're doing and provide outstanding support.
Jalapeno Records
Independent record label, music publisher and management company, Jalapeno Records, represents 20 bands, covering a broad spectrum of funk, soul and electronic music. Having started out with a focus on vinyl and CDs, in recent years the company has branched out to pursue sync deals for its artists.
Fast facts
Company: Jalapeno Records
Industry: Creative
Target Market: USA
UKTI Services: Missions, Market Visit Support, Overseas Market Introduction Service, Passport to Export
Website: www.jalapenorecords.com
Published 29 September 2014