Case study
Innovative telephony solution saves customers up to 73%
The Crown Commercial Service has helped 2 borough councils and an NHS trust save £238,000 on telephony services.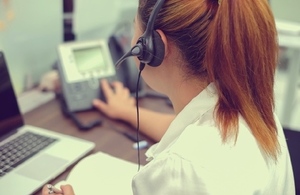 Background
Many public sector organisations routinely buy the same traditional fixed telephony services, or allow expired contracts to roll over, without considering how they can benefit from new technologies.
For example, traditional Integrated Services Digital Network (ISDN) phone lines have been the dominant technology for business telephony since the 1990s, but the technology is now being superseded by Session Initiation Protocol (SIP) trunks. SIP takes advantage of high-speed Internet Protocol (IP) transmission technologies, and offers very substantial cost reductions and operational benefits over ISDN.
Whilst SIP is now widely adopted in the private sector, it is currently less so in the public sector.
The solution
We ran 2 national further competitions to buy telephony services and the underlying SIP-based infrastructure for customers wishing to upgrade their services. The most economically advantageous offers were gained by taking into consideration both price and non-price factors.
The result
The winning solutions achieved overall telephony savings of 34% and 63% for 2 borough councils and 73% for London North West Healthcare NHS Trust, when compared with their previous telephony contracts.
This is a total saving of £238,000 over the initial terms of the new contracts. In addition, the flexibility, resilience and scalability of the SIP-based solutions will provide the organisations with significant operational benefits.
London North West Healthcare NHS Trust
The London North West Healthcare NHS Trust looks after the health of the London boroughs of Brent, Harrow and Ealing. The trust was created by the merger of The North West London Hospitals NHS Trust and Ealing Hospitals NHS Trust in 2014. The trust has 2 acute hospitals, a non-acute hospital and nearly 40 smaller sites.
They wanted to move to a single phone system across all their main sites and decided to move away from its traditional ISDN-based telephony to SIP as part of the move.
Jon Cameron, Head of Unified Communications at the trust said:
"The Crown Commercial Service has been enormously helpful in supporting our ongoing requirement to find increased value from our telephony. Through the amalgamation of our fixed line telephony costs, we have been able not just to significantly reduce our regular spend but also bring in a more resilient technology that can be flexed to meet any changing needs we may have. In bringing our telephony network up to date, the implementation of SIP ensures we are a good deal further towards our strategic goals of unified communications across two merged multi-site organisations and an improved, more consistent experience for our colleagues and users."
Get involved
We would like to hear from customers across the public sector who are interested in securing savings by combining their requirements with other organisations on a range of technology goods and services including mobile services, IT hardware and other telephony services.
Find out more about future opportunities on our technology aggregation pipeline
You can also email technologyaggregation@crowncommercial.gov.uk or call us on 0345 410 2222.
Published 3 August 2016