Case study
Improving library services for disabled people in Midlothian
How Midlothian libraries are improving the services they provide for disabled people.
This case study was withdrawn on
The Accessible Britain Challenge ended in March 2015. The Disability Confident scheme provides support and guidance on recruiting and retaining employees with disabilities and long-term health conditions.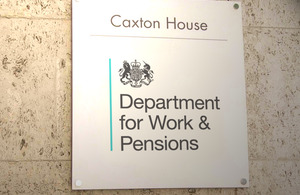 Libraries in Midlothian are improving the services they provide disabled people, helping them to become full and active participants in their community.
Blind and visually impaired people
Midlothian Library Service has signed up to 'Share the Vision's' 6 steps to library services for bind and partially sighted people.
It subscribes to the Visually Impaired Reading Groups in Libraries (VIRGIL) project. This is funded by the Scottish government to:
provide books in large print and on CD
establish and maintain book groups for visually impaired people
share books and expertise across local authorities
It has set up a reading group for blind and visually impaired people at Newtongrange Library.
It subscribes to the OneClickdigital eaudiobook service, enabling people with a visual impairment to download bestselling audio books.
Deaf and hearing impaired people
In partnership with NHS Lothian, replacement batteries for NHS hearing aids are available in Midlothian libraries. Midlothian residents can now collect their replacement batteries locally rather than having to travel into Edinburgh. This makes it easier for deaf people to replace their batteries, saves them travel costs and is good for the environment. Old batteries can be handed into the library for recycling.
People with physical disabilities
In partnership with Forward Mid, libraries at Penicuik, Dalkeith, Loanhead and Newtongrange have created information points for disabled people. These display stands include information about:
education
employment
travel, including accessible transport
welfare benefits
advocacy
local activities
local support groups
There are plans to extend these to all libraries in the area.
Dalkeith library provides changing and toilet facilities for disabled people.
People with dementia and Alzheimer's
Newtongrange library hosts a reminiscence group which meets every week. The group is for everyone including those with mild dementia.
Penicuik library hosts a weekly Alzheimer's reading group which is run by the volunteer centre.
People with mental health issues
The service has employed a bibliotherapist for a year to support people with mild to moderate mental health issues. The bibliotherapist facilitates bibliotherapy sessions in libraries using the printed word to discuss emotions, feelings and related issues.
All libraries have 'healthy reading collections'. These are books that GPs and health professionals can prescribe to people with mild to moderate mental health issues. All titles are assessed by health professionals and most are based on cognitive behavioural therapy.
Improving access
The service has introduced a good neighbour scheme for people who cannot get to the library. The scheme allows a neighbour, friend, or relative to use someone's library card to borrow items for them.
They employ a dedicated library assistant 25 hours a week to provide a home delivery service to people who are unable to leave their homes.
A mobile library visits rural, isolated and communities. This provides access to a wide range of services to people who may have mobility problems or difficulty in travelling distances.
IT and assistive technology
All libraries have a range of assistive aids to help disabled people use free public access computers. This includes laptrays, various keyboards, trackballs, joysticks and software.
All libraries also have dedicated IT learning spaces providing free access to computers and the internet. Live IT Sidekicks are volunteer tutors who help learners develop their IT skills at their own pace and in a safe environment. Live IT Sidekicks has won 4 awards including a Convention of Scottish Local Authorities (COSLA) bronze award for achieving better outcomes.
Published 8 January 2015