Case study
Human Rights Council Elections
The UK is seeking election to the UN Human Rights Council for the term January 2014 to December 2016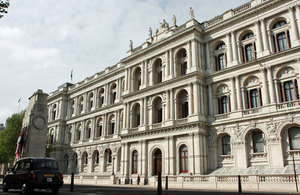 The UK is seeking election to the UN Human Rights Council (HRC) for the term January 2014 to December 2016
What is the HRC?
The HRC is an international organisation made up of 47 governments, elected by the General Assembly in regional groups from all 193 United Nation States. The HRC, based in Geneva, Switzerland, sits in three regular sessions a year. It addresses broad human rights themes and assesses the human rights records of states with the aim to raise human rights standards and individual State performance worldwide. The HRC can call to account the most serious human rights violations through Special Procedures.
Why is the UK seeking election to the HRC?
The HRC is a vitally important international institution that we believe in and support. The UK has a central role to play in promoting and protecting human rights standards worldwide.
What does the UK bring to the HRC?
Commitment
we strengthen UN efforts;
we work effectively with UN mechanisms, including the Universal Periodic Review;
we elevate human rights further up UN agendas;
Contribution
we contribute 0.7% of our GDP to international development assistance;
we provide experience, commitment and ambition;
we work to maintain the HRC's strength and credibility;
Collaboration
• we are in regular contact with non-governmental organisations (NGOs) and members of civil society;
• we work with the European Union and Commonwealth member states to share best practice and experience;
• we work with partners outside traditional regional groupings
Ministerial support
'I am proud to present the UK for election to the Human Rights Council for the term 2014-16. The HRC has proven its ability to address mass atrocities and human rights abuses, even when other intergovernmental organisations have failed to speak out. We stand ready for election, bringing a wealth of experience, deep commitment and passionate engagement on human rights issues around the world.'
UK Foreign Secretary, William Hague
'As Senior Minister for UK human rights policy overseas, I am proud of our active involvement with the Human Rights Council. If elected, we will work to protect and uphold human rights, bringing the same spirit of openness, cooperation and collaboration that we brought to our Universal Periodic Review.'
UK Foreign Office Senior Minister of State, Baroness Warsi
Additional information
Published 22 March 2013