Case study
Human Rights and Democracy Report 2012 case study - Egypt
Egypt has seen renewed political turmoil and periods of violence over the past six months.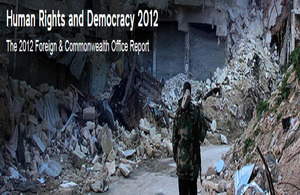 Latest update: 30 September 2013
Egypt has seen renewed political turmoil and periods of violence over the past six months. In late June 2013, one year after Egypt's first democratically elected President took office, millions took to the streets all over Egypt to call for then President Morsi to step down. The head of the Egyptian Armed Forces announced late on 3 July the removal of President Morsi and the military's political roadmap for Egypt's transition. On 3 July the Foreign Secretary called on all sides to show restraint and avoid violence; he also made it clear that the United Kingdom does not support military intervention as a way to resolve disputes in a democratic system. Supporters of the Muslim Brotherhood gathered in protests in squares in Cairo and Giza. There were significant clashes between pro-Muslim Brotherhood protestors and security forces, resulting in mass fatalities on 8 and 27 July. On 8 July, the Foreign Secretary condemned the violence which led to the deaths of over 40 people, including protestors. The then Minister for the Middle East and North Africa, Alistair Burt, visited Egypt on 24 July and met with the interim government and the Muslim Brotherhood. He stressed the State's responsibility to uphold the Egyptian people's right to peaceful protest and the people's responsibility not to resort to violence. In the early hours of 14 August the security forces moved in to clear forcibly the pro-Muslim Brotherhood sit-ins, leading to the deaths of hundreds of people. The Foreign Secretary issued a statement in which he condemned the use of excessive force in clearing protestors on 14 August. He voiced the UK's deep concern at the escalating violence and unrest in Egypt, and his regret at the loss of life on all sides. This was echoed by the Prime Minister who stated that the way to peace was through compromise. A state of emergency was declared 14 August and there are daily curfews in many areas of Egypt. The UK government has called for an independent investigation into the operations to disperse the sit-ins, and the Foreign Secretary has requested an investigation into the death of a British journalist who was shot on 14 August in Rabaa al-Adawiya Square. Since 3 July the UK government has been closely involved in intensive diplomatic efforts directed at reaching a peaceful resolution to the political standoff. We have been clear that for long-term stability, Egypt needs an inclusive political process leading to early and fair elections, which all groups are able to contest. We have called for a soundly-based constitution upholding human rights in their entirety, including freedom of religion or belief and freedom of expression.
We welcome the current review of the constitution. As the Foreign Secretary said in Parliament on 3 September, "it is important that we urge everyone in Egypt towards inclusive political dialogue, but condemn all acts of violence". On 9 September we raised our concerns about the recent events in Egypt at the United Nations Human Rights Council. The UK government is concerned by reports of the detention of journalists and political figures. UK ministers have clearly stated that freedom of expression, including freedom of the media and the ability for citizens to debate issues and challenge their governments, is fundamental to building a democratic society. We have called on the Egyptian authorities to release political leaders and journalists detained since the events of 3 July, unless there is a criminal case to be made against them.
The UK government is watching closely the outcome of September's Cairo court ruling banning the activities of the Muslim Brotherhood, and reports that the Freedom and Justice newspaper has been closed down. The Foreign Secretary has been clear that, whilst we do not support any specific political party in Egypt, we strongly support an inclusive political system which allows all groups in society to be represented, and in which freedom of expression is respected. Overall, establishment of a thriving civil society in Egypt has seen little progress. We believe that Egypt's draft NGO laws, including that set before the Shura Council in April, were restrictive and limited the registration, activity and funding of an essential part of civil society. The Foreign Secretary, on 4 June, raised his concerns about a court verdict convicting 43 Egyptian and international NGOs. Mr Burt issued a statement expressing our concerns: "civil society has a vital role to play in Egypt's transition. We call on the authorities to create an environment which allows a vibrant civil society to flourish."
Through the Arab Partnership we are supporting projects aimed at supporting the media, the engagement of civil society with Parliament, and providing training to journalists.
Regrettably there have continued to be sectarian attacks during this period. Mr Burt issued a statement on 8 April which strongly condemned the violent clashes that occurred outside St Mark's Coptic Cathedral in Cairo on 7 April, leaving at least one person dead and many others injured. On 23 June four Shia men were killed and several others injured in a violent sectarian attack in a village in the Giza Governorate. And since 3 July there has been a rise in the number of violent sectarian attacks including on churches, homes and businesses. The Foreign Secretary has publicly condemned all acts of violence in Egypt, including against places of worship. In Parliament on 3 September he spoke about the deplorable burning of churches and attacks on Coptic Christians. We are concerned by reports that large numbers of Coptic Christians have left Egypt in recent years.
We are deeply concerned by reports of large numbers of sexual assaults on female protestors. Although the 30 June protests were viewed as largely peaceful, there were a number of sexual assaults reported in Tahrir Square that evening. FCO ministers have been clear in their contact with the Egyptian authorities that women's participation is a key part of supporting political transition and building stability, and that their rights must be protected. Through the Arab Partnership, we work with project partners to ensure that gender issues are taken into account, and support projects which aim to strengthen women's political and economic participation.
We remain concerned that female genital mutilation is still being practised in Egypt, which is contrary to international conventions and fundamental human rights. We remain concerned about the restrictions on the right to form independent trade unions and ongoing harassment and intimidation of trade union officials.
Trade unions have an important role to play in supporting the development of a healthy democracy. We are supporting a project which aims to assist Egypt's new independent trade unions to develop and promote economic and social policy recommendations.
10 April 2013
In 2011, we concluded that our key concerns were freedom of expression; freedom of association; mistreatment of religious minorities, protesters, journalists and human rights defenders; increased use of military trials for civilians; and allegations of inhuman or degrading treatment at the hands of the security services. Over the course of 2012, there have been a number of improvements in the human rights situation in Egypt. Most significantly, handover of power from the Supreme Council of the Armed Forces (SCAF) to a democratically elected president took place in June and there is now greater space for public debate. Parliamentary elections are scheduled to begin on 27 April 2013.
However, issues of concern remain. Foremost of these are women's rights, freedom of religion and freedom of expression. Women, who played a key role in the revolution, have seen little improvement in their rights. We remain concerned about reports of increasingly violent sexual assault and treatment of women, and we have raised this with the Egyptian government. The transition period has also seen continued sectarian violence. The Prime Minister raised the protection of religious minorities during his meeting with President Mursi on 26 September. Through project funds, we have supported a project to create a partnership between mainstream Muslim and Christian groups to train mixed teams in conflict resolution and mediation skills.
The new constitution agreed by referendum in December lacks clarity on certain human rights elements. While it gives Muslims, Christians and Jews the right to practise their religion, it does not give the same freedom to other religions and minority sects.
More positively, there is now greater space for public debate in Egyptian society since the fall of Mubarak. We note that during the protests over the draft constitution at the end of 2012, the police initially acted with more restraint than previously and the army made clear that they would not intervene. But we are concerned about limits on freedom of expression in Egypt, including the increase in prosecutions of bloggers and activists, closing of satellite television stations, and lack of clarity on the definition of blasphemy, which is illegal under the new constitution.
We are also concerned about ongoing harassment and intimidation of trade union officials as well as the article in the new constitution which prohibits more than one trade union per profession. Trade unions have an important role to play in developing a healthy democracy. Through the joint-funded FCO–DFID Arab Partnership Fund, we are supporting a project to assist Egypt's trade unions to develop and promote economic and social policy recommendations.
Elections are crucial to the democratic process and to delivering long-term, stable democratic outcomes. Support for good electoral process and practice is therefore central to the FCO's policy on democracy. We provide this largely by giving financial, technical and personnel support to election observation missions and democratic institutions to promote the peaceful transition of power and minimise opportunities for fraud. In this we work closely with DFID, led by a joint policy on election assistance. In 2011–12 DFID provided support to four countries to help them hold freer and fairer elections (Tanzania, Nigeria, Zambia and Yemen).
Much of our election observation support is done through international organisations, in particular the EU, the Organization for Security and Co-operation in Europe (OSCE) and the Commonwealth. These organisations' election observation missions consider the strengths and weaknesses of an electoral process and make independent recommendations for improvements. In 2012, the EU observed elections in Senegal, Algeria, Sierra Leone, Libya and Timor-Leste, helping to achieve largely peaceful and successful elections in each case. The FCO supported UK observers for OSCE election observation missions in Kazakhstan, Russia, Armenia, Belarus, Georgia, Serbia, Montenegro, Ukraine and the USA.
As part of discussions to modernise the Commonwealth which took place throughout 2012, Commonwealth Heads of Government agreed that election observation was an area where the Commonwealth adds significant value and concluded that this work should be strengthened. In 2012, the Commonwealth observed elections in Papua New Guinea, Sierra Leone, Lesotho and Ghana. The UK, through the FCO and DFID, provided approximately £7 million in support of the Ghanaian elections. This included a training programme for 16,000 police and other service personnel on electoral procedures to ensure, for example, impartial conduct at polling stations. The elections were peaceful and deemed by the observers to be free, fair and transparent.
Domestic election observers also play an important role in monitoring the conduct of elections. For instance, in Libya, the Arab Partnership Fund supported training of nearly 900 local election observers, including women and former revolutionary fighters, for Libya's July 2012 elections, the first to be held after the fall of Muammar Qadhafi and the first in the country in 47 years. The UK also helped set up an Observer Control Centre to provide observer groups with a central office in which comments and observations could be coordinated. The observers were able to report on an election which, despite some security incidents, they determined was fair overall, and in which the majority of Libyans were able to vote without intimidation.
A key pillar of the FCO's and DFID's joint policy on election support involves offering long-term engagement between elections, as well as during them, with those whose effective participation is essential for a peaceful democratic result, including parliamentarians, electoral bodies, the judiciary, political parties, the media and civil society.
Our response to the elections in Egypt, where the UK is committed to supporting the process of political transition, was an example of this approach being put into practice. Egypt went to the polls on three separate occasions in 2012: a parliamentary election in January, a presidential election in May and a referendum on the new constitution in December. Through the FCO Arab Partnership Fund, we provided early financial and public support to the Carter Center monitoring mission, one of the few international organisations allowed to observe the elections in May. We were also the only donor to fund the observation of the December referendum by the Electoral Institute for Sustainable Democracy in Africa, the single independent observer. Embassy staff observed at polling stations when permitted by the authorities. All three elections passed peacefully and without significant allegations of irregularity. We are now working to support media training in Egypt to facilitate impartial electoral coverage and to provide peer support to nascent political parties and parliamentarians, in particular female candidates. We will continue to promote a free and open political system in Egypt by providing support for a credible and impartial assessment of the presidential elections and constitutional referendum.
In 2013, the UK will continue to support electoral processes both bilaterally and through our work with international organisations.
Read the full report from here
Published 24 April 2013
Last updated 17 October 2013
+ show all updates
Added latest update: 30 September 2013
Added translation