Case study
Human Rights and Democracy Report 2012 - case study- Bangladesh
The current political situation in Bangladesh remains volatile.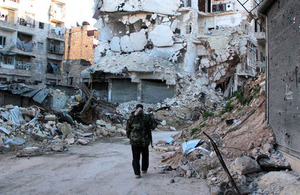 http://www.hrdreport.fco.gov.uk/promoting-british-values/democracy/elections-and-election-observation-missions/case-study-bangladesh-political-violence
Latest Update: 30 September 2013
The country's next Parliamentary elections are due by 24 January 2014. The UK government's overriding objective remains to encourage free, fair and inclusive elections that lead to a peaceful and sustainable transition from one elected government to another, whilst maintaining domestic and regional stability. The Foreign Secretary made this clear during his meeting with Bangladesh Prime Minister Sheikh Hasina on 4 July. Most recently on 25 September, Minister for Human Rights, Baroness Warsi, emphasised this to Bangladesh Foreign Minister, Dr Dipu Moni.
Historically, political violence and confrontation increase in frequency and intensity during the last year of an elected government. Unfortunately, 2013 has been no exception. Since January, over 250 people have been killed in violence, including at least nine members of law enforcement agencies, and over 40 working days have been lost to enforced strikes known as hartals. In addition to uncertainty over election-time governance arrangements, opposing reactions to verdicts pronounced by the International Crimes Tribunal (ICT) prosecuting those accused of committing war crimes during the country's 1971 War have contributed to political and religious tension. In September, Baroness Warsi issued a statement urging all political parties to avoid actions that could undermine trust and confidence ahead of upcoming elections. She voiced concern about the Bangladesh Supreme Court's decision to pass down the death penalty to Jamaat-e-Ismali Assistant Secretary General, Abdul Qader Mollah.
The UK has engaged with all parties, urging restraint and constructive dialogue to support conditions conducive to an inclusive and peaceful electoral process. This has included strong condemnation following the increase in violence and attacks on minorities in February. The UK used our intervention at Bangladesh's Universal Periodic Review in April to highlight concerns about political violence while calling on the government to avoid excessive use of force. Baroness Warsi also raised our concerns with Dr Dipu Moni on 25 April. International Development Minister, Alan Duncan, also reinforced messages for a process of genuine dialogue to the Prime Minister, Sheikh Hasina, Foreign Minister and Leader of the Opposition, during his visit to Bangladesh in June. On 4 July, in his meeting with Prime Minister Sheikh Hasina, the Foreign Secretary emphasised the need for human rights to be universally respected and that justice was essential in all cases. We have also continued to provide technical assistance through UKAID programmes to support the work of the Bangladesh Election Commission on election security, dispute resolution, and campaign finance tracking to help deliver a technically correct poll. UKAID is also working with civil society on election violence mitigation and tracking; and training of trainers for election observer groups. This is a crucial part of our work.
We have also called on the Bangladesh government to ensure that civil society can continue to play its important role in the run-up to elections. In response to the arrest in August of Adilur Rahman Khan (Secretary of Odhikar, a prominent local human rights NGO), our High Commissioner to Bangladesh immediately raised our concerns with the Foreign Ministry and supported an EU statement recognising the contribution of a vibrant civil society and the work of human rights defenders in the strengthening of human rights in Bangladesh. Our High Commission is continuing to observe relevant court proceedings in conjunction with officials from the EU, Canadian and US embassies. On 25 September, Baroness Warsi urged Dr Dipu Moni to ensure Khan's human rights were respected.
We continue to press for civil society in Bangladesh to be given the space to operate effectively in the run-up to and during the elections.
Published 20 October 2013